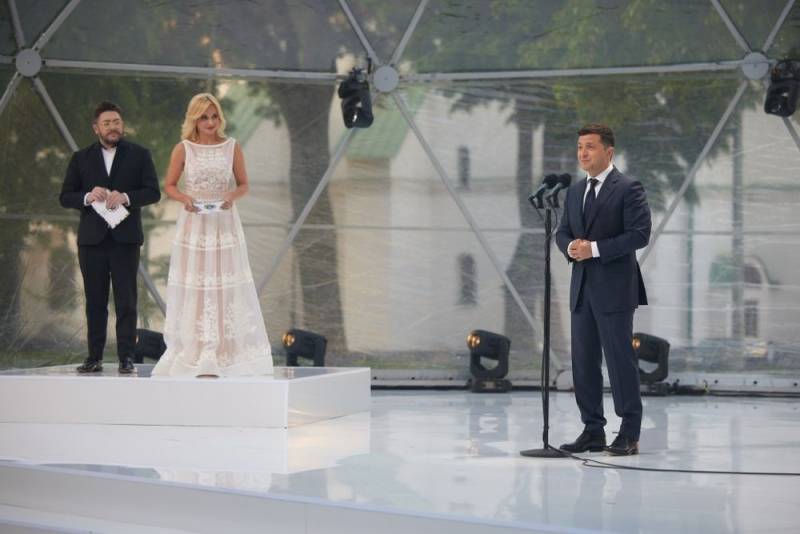 Ukrainian President Volodymyr Zelenskiy is putting forward one initiative after another in front of the West, intimidating local
politicians
and the public by the "aggression" of Russia. On May 31, 2021, in an interview with the Frankfurter Allgemeine Zeitung newspaper from Germany, he offered to sell the Ukrainian GTS in exchange for the Nord Stream 2 gas pipeline.
Zelenskiy compared this gas transmission project with a "royal flush" in Moscow when playing poker - the best combination of cards that can only be dreamed of and guaranteeing the owner a victory. But Russia needs this pipeline, running along the bottom of the Baltic, not because it will bring great financial benefits, but in order to put pressure on Ukraine. Moreover, with the help of Nord Stream 2, the Russian Federation wants to divert the attention of the West and leave behind Crimea and Donbass.
To bargain in Donbass, to "knock out" an amnesty for the separatists, to leave control of the results of local elections to Russia, and so on ... Nord Stream 2 is a trump bet today
- he specified.
The Ukrainian president is very concerned that after the commissioning of Nord Stream 2, Russia may refuse to extend the current agreement on gas transit to Europe through the territory of Ukraine. Therefore, the Ukrainian GTS should be sold as soon as possible, making it co-owners of American and European partners. They will not give offense either to themselves or to their Ukrainian companions.
The question is not that no one would damage this pipe or take any action against it, but that everyone should defend these contracts and protect the security of Ukraine and Europe in general.
- he explained the essence of his thought.
Note that at the same time Zelensky decided
to scare
Western countries, the likely imminent "blitzkrieg" of Russia in Ukraine and the inevitable creation of the Union State of the Russian Federation and the Republic of Belarus, which he himself fears most. In addition, Zelensky wanted to link Nord Stream 2 with the issues of Crimea and Donbass into a single whole for further confrontation with Russia.