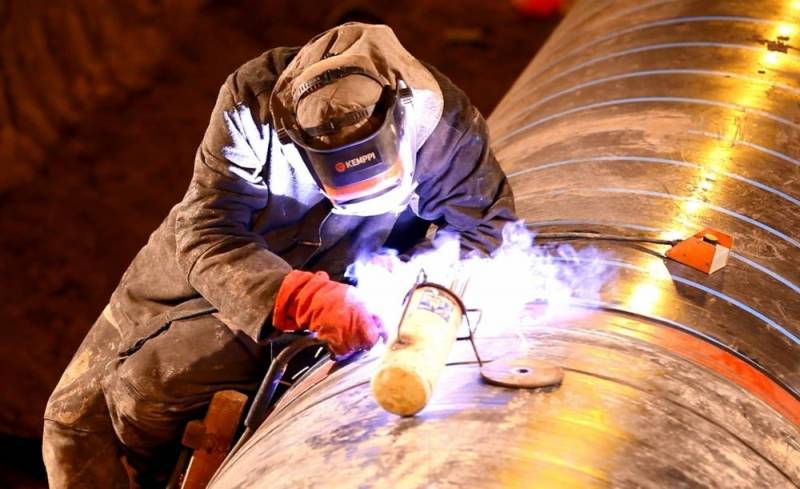 In the first 5 months of 2021, PJSC Gazprom set several records in terms of gas production and supplies of raw materials to foreign consumers. This is stated in a report published on June 1, 2021 in the company's official Telegram channel.
In January-May this year, production amounted to 221,9 billion cubic meters. meters of gas, which is 16,2% or 31 billion cubic meters. m of gas more than in the same period in 2020. Over the specified period, by 17% or 18,8 billion cubic meters. m gas supplies to the domestic Russian market increased.
Exports to non-CIS countries amounted to 84,2 billion cubic meters. meters of gas, which is 27,2% or 18 billion cubic meters. m more than in January-May 2020. Deliveries increased to 9 countries: Turkey by 166,9%, Romania - by 194,7%, Serbia - by 125,9%, Germany - by 40%, Bulgaria - by 47,8%, Greece - by 29,9% %, Italy - by 18%, France - by 18,4%, Poland - by 19,8%.
From the message of "Gazprom" it is clear that Russia is pumping (selling) a lot of raw materials to Germany and Italy against the background of the completion of the Nord Stream-2 gas pipeline. In May, historical records were set for the volume of supplies to these countries for this month in previous years. Moreover, both countries are the largest importers of Russian gas at the end of 2020.
However, despite the high demand for raw materials in Europe, the filling rate in local UGS facilities remains at a low level. According to Gas Infrastructure Europe, as of May 30, only 8,1 billion cubic meters were replenished after last winter. m. At the same time, the extraction in cold weather exceeded 66 billion cubic meters m.
Gazprom drew attention to the fact that the lag in filling UGS facilities is not decreasing and in the last decade has remained a record low - 34,6 billion cubic meters m. Europeans are seriously lagging behind the rhythm of previous years this year. In May, about 7,5 billion cubic meters were sent to storage facilities. m of gas, but to make up for lost time, in order to have time to prepare for the next heating season, they need to redirect at least 15 billion cubic meters to UGS facilities. m of gas monthly.
In addition, the low rates of reserves replacement are demonstrated by the Ukrainian UGS facilities. In May, it received only 0,34 billion cubic meters. m. This is only 2,6% of the volume spent during the last heating season. Gazprom stated that the backlog in filling Ukrainian UGS facilities increased to 2,3 billion cubic meters. m compared to last year.
Note that according to the navigational resources of TUB Fortuna, it remains to lay at the bottom of the Baltic 5 km of pipes of one of the strings of the Nord Stream-2 gas pipeline in the German EEZ. Since February, despite the vagaries of the weather and attempts at opposition from Poland, the barge has laid over 58 km of pipes in Danish and German waters. Now, with the support of a whole flotilla of supply vessels, it manages to lay 1 km of pipes per day. This indicates that by the end of this week one of the Nord Stream 2 lines will be fully completed.
After that, Fortuna will most likely start helping to complete the construction of another string of the gas pipeline. For more than a month, KMTUS "Akademik Chersky" has laid only 10 km of pipes and it will obviously not be superfluous to help him. Until the end of the construction of this line, it remains to lay 75 km of pipes.