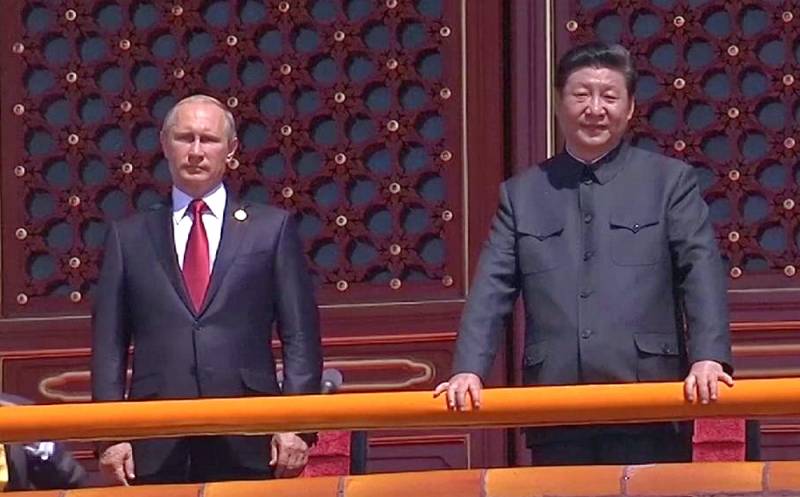 Russia, suffering from sanctions from the United States, may well create an alliance with China, because in modern conditions both countries have much in common. This point of view is expressed by experts from the German edition of Die Welt.
Last fall, at the Valdai Club, Vladimir Putin, when asked about the possibility of creating a military alliance with China, replied that "everything can be imagined," although Moscow had previously counted only on a strategic alliance between the two powers. Meanwhile, European experts see signs of a very close military rapprochement between Moscow and Beijing.
Several factors indicate that the Russian-Chinese military alliance has already become a reality.
- German analysts believe.
One of them is the sale to China of S-400 anti-aircraft missile systems and super-maneuverable Su-35 fighters, as well as the participation of Russian and Chinese military personnel in joint exercises. In addition, Russian specialists helped their Chinese colleagues to develop a missile defense system.
Die Welt sees a sign of rapprochement between the positions of Russia and China in the similarity of responses to external threats. So, in April of this year, the Russian Federation moved troops to the borders with Ukraine. China stepped up its actions against Taiwan at about the same time. According to German experts, in this way Beijing made it clear that it is ready, if necessary, to come to the aid of its northern neighbor.
Both Russia and China have common goals. Both countries are trying to influence their immediate surroundings, which, among other things, is expressed in the rejection of the actions of the United States, which seeks to draw the states of Asia and Eastern Europe into their military alliances. At the same time, the combined military power of Russia and China is superior to that of the United States, which allows Moscow and Beijing to effectively compete with Washington.