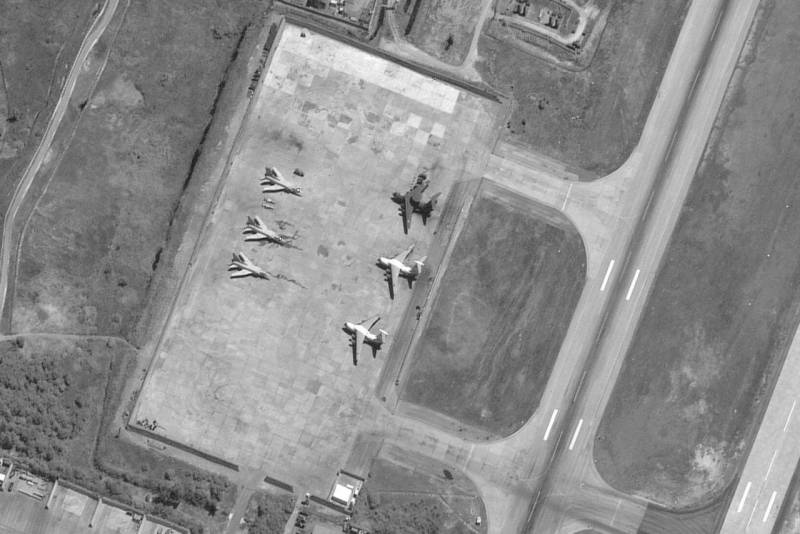 A satellite image of the Russian Khmeimim airbase in the Syrian province of Latakia has appeared on the Web. From space, three Tu-22M3 long-range supersonic missile-carrying bombers, a pair of Kh-22 air-to-surface cruise missiles (range up to 600 km), two military transport Il-76MD and one AWACS aircraft A-50U of the Russian Aerospace Forces.
It should be noted that the missile carriers arrived in Syria from the Shaikovka airfield (Kaluga region), where the 52nd Guards Heavy Bomber Aviation Regiment is based. These are the following aircraft: board 28 (red), registration number RF-94157 (manufactured in 1992); board 50 (red), r / n RF-34091 (1990 y / in); board 15 (red), r / n RF-94149 (1987 / in).
It is alleged that the picture was taken on May 27, 2021 and shows the same trio of missile carriers that
flew in
in SAR on May 25 for training over the Eastern Mediterranean. Wherein
is known
that on May 27, two Tu-22M3s conducted a training flight accompanied by multifunctional Su-35 and A-50U fighters over the country's territory and the sea. After completing the assigned tasks, the missile carriers should return to Russia.
Note that the Khmeimim airbase has been leased for 2015 years since 49. Recently, the runway was modernized there (it was extended by 300 m to 3,2 km) and any type of aircraft can now land on it.