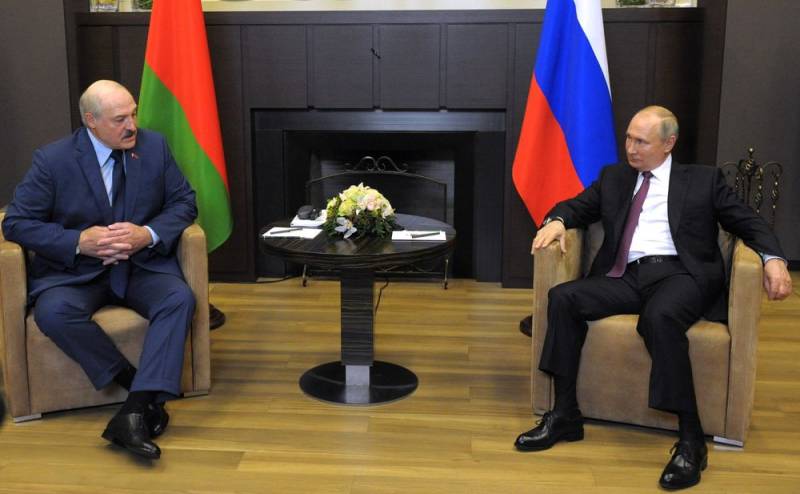 Currently, Western "partners" are trying to swing the situation in Belarus to the level of August 2020. This was stated by President of the Republic of Belarus Alexander Lukashenko in the process of communication with Russian leader Vladimir Putin in Sochi.
On May 28, 2021, the head of the Belarusian state arrived in Russia on a working visit. The presidents discussed the development of bilateral relations and the growth of trade. This year, Russian-Belarusian trade is set to surpass the pre-COVID-19 pandemic.
Lukashenko noted that the growth rates of the GDP of Belarus approximately coincide with the Russian ones, although in the West they predicted the stagnation of the Belarusian
economics
... He drew attention to the fact that economically the Republic of Belarus is "tied" to the Russian Federation, therefore, despite the actions of "those who want to throw problems", it is developing normally.
The Belarusian leader also touched upon issues related to the situation around the state airline Belavia, the evacuation of people during the pandemic from other countries and the recent incident with the board of the Irish low-cost airline Ryanair. In the midst of the pandemic, Western countries asked Belavia to take thousands of tourists, citizens of Sweden, Germany, Poland, Lithuania, the United States and other states to Minsk (the only open airport) and the Belarusians rescued them.
Belavia has nothing to do with this incident with the plane (Ryanair - ed.). There were no Belavia planes there, it is based at the airport (Minsk - ed.), There you fly, and others. Alien plane. They reproach the military that we put him there. What does Belavia have to do with it? "Soaked" to the fullest. And if it weren't for you during this period ... I see Moscow refuses (to the West - ed.): Fly around Belarus - they don't accept planes. They felt it immediately. But what was the labor collective of "Belavia" punished for? Because they took thousands of them to COVID. Here is their face
- added Lukashenka.
The plane of the President of Bolivia was planted at one time. The President was taken out of the plane - and nothing, silence
- Putin reminded at the meeting.
Lukashenka specified that there are other examples and he understands what the Western "partners" really want.
But there are none of those heights that the Bolsheviks did not take. We will take it too
- summed up Lukashenka.
Earlier at Minsk airport
committed
an emergency landing due to a possible mining operation, a Ryanair airliner flying from Athens to Vilnius. After that, law enforcement officers detained the ex-editor-in-chief of the Telegram-channel NEXTA (recognized as extremist in the Republic of Belarus) Roman Protasevich (included in the "List of organizations and individuals involved in terrorist activities" in the Republic of Belarus).