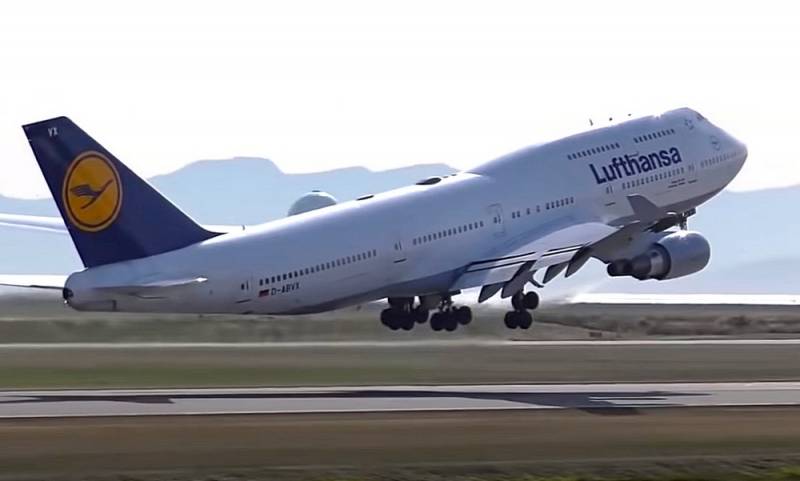 Something strange and incomprehensible is happening in the Russian sky. After the airspace over our friendly Belarus was temporarily closed by the decision of the Aviation Security Agency, Moscow de facto closed its own for European air carriers. What is this, another "cunning plan" of the Kremlin on how to intercede for its only ally in the western direction, or is it banal Russian sluggishness? Let's figure it out.
Recall that the formal reason to "cut" Belarus from the single airspace of the Old World was the resonant detention of opposition leader Roman Protasevich, whose activities in his homeland are recognized as extremist, and who has a very curious biography and social circle. The plane of the Irish airline Ryanair, on which Protasevich was flying with his girlfriend Elena Sapieha, was deployed in the air due to reports of a possible finding of an explosive device on board and escorted to Minsk accompanied by a fighter of the RB Air Force. The bomb was not found, but these two "public figures" ended up in the hands of the Belarusian special services. This fact terribly angered the entire Western and domestic liberal community, and Minsk is accused of almost state terrorism without any trial. As a result, until the international legal assessment of the Belarusian authorities was completed, flights over its airspace were temporarily prohibited. Rather, European air carriers were strongly advised to refrain from them. Leading Western airlines followed this advice.
Therefore, Belarus now needs to somehow fly around, for example, through the Baltic States or Ukraine and further through our country, depending on the route chosen, which means an increase in flight time and carrier costs. And then the fun began. First, Air France complained about the refusal to fly from Paris to Moscow bypassing Belarus. Then Austrian Airlines announced the impossibility of flying from Vienna to the Russian capital. The Austrian Foreign Ministry hastily expressed their indignation:
The Russian reaction is absolutely incomprehensible to us.
What is it, "greetings from the Kremlin" or just "it happened"?
Sluggishness?
So far, most industry experts are inclined to this banal version, who do not see in the case
political
background. European carriers are right, as they follow the recommendations of the EU Aviation Safety Agency, but Russia is also in its own right. To obtain permission to fly through our airspace, air carriers make official requests, specifying parameters such as the point of entry and the desired list of routes. The Russian side studies and approves them, or corrects them. The decision to temporarily suspend flights through Belarus was made on Tuesday, and from Wednesday to Moscow, applications for re-routing were to be poured. That is, Air France and Austrian Airlines obviously already had permits to fly through the Belarusian airspace, but they wanted to get a new one. Perhaps we simply did not have time for some technical reason, hence the refusal.
True, there is one caveat that calls into question the realism of this version. The fact is that flights to the European Union are still closed for Russia due to coronavirus restrictions. More precisely, we can fly to Portugal, Malta, Iceland or Serbia as tourists, but not to Austria or France. The canceled flights, due to which the fuss began, were charter, so-called "export" flights. And what, just such a blockage suddenly formed at the Russian dispatchers, that they are not able to redirect a couple of planes? If so, then this sluggishness should go down in legend.
A "tricky plan"?
If flights from Europe bypassing Belarus are not resumed in the coming days, then vague doubts will begin to transform into a version about a certain "message from the Kremlin" to its Western partners. Nowadays there is a popular point of view that if Moscow closes flights to Europeans bypassing Belarusian territory, Brussels will respond to our country symmetrically. Say, Russian airlines will not be allowed to fly to Paris or Vienna. Let's admit. But what will Europe do if the Kremlin closes all of its airspace to European air carriers altogether?
Let's not forget that, due to its unique geographic location, Russia is the most important transit crossroads on the way from Europe to Asia and back. Not because of a good life, but out of necessity, airlines of the Old World pay Aeroflot $ 300 million in "flight money" a year. If they also have to fly around our country, the cost of tickets will rise sharply, and then the passenger flow will be reduced. Companies will start to suffer even more losses and go bankrupt, and many of them are already struggling to stay afloat due to coronavirus restrictions.
So, let's suppose that Moscow deliberately introduced an unspoken temporary ban on flights bypassing Belarus. What goals can it pursue in this way? Let's say to urge the West to forget about its "omnipotence" and remember about its own liberal-democratic values. For example, about the presumption of innocence, about the fact that we must first wait for the results of the international investigation of the actions of the Belarusian authorities, and only then take her into a transport blockade. And not in the blockade, of course, since restrictive measures should be more targeted, lay down directly on the responsible persons, and not the whole country as a whole, and correspond to the severity of the act. It would be nice if it really turned out that Moscow stood up for Minsk like that.