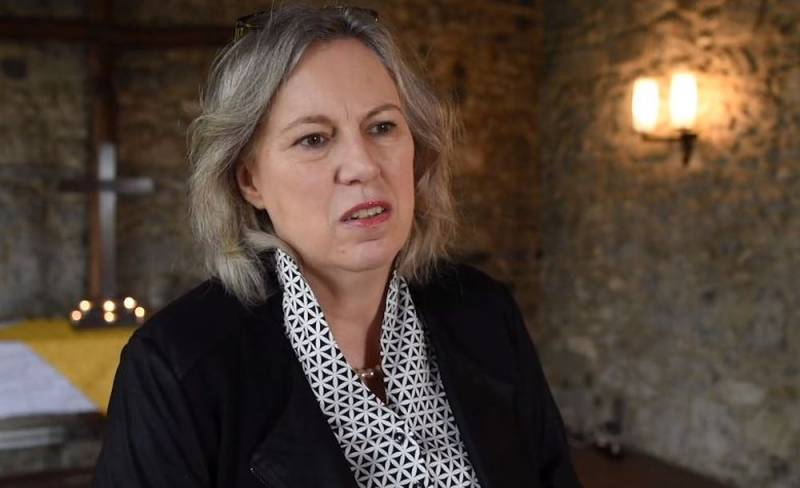 In 1945, the German Evangelical Church (DEK), the state Protestant church of the Third Reich, was transformed into the Evangelical Church of Germany (EKD), known throughout the world for its
political
and social preferences. She openly supported the Maidan in Kiev and considers local right-wing radicals "heroes of Ukraine." Therefore, it is not surprising that this religious association calls the Belarusian Roman Protasevich, who fought in the Donbass as part of the Nazi Azov regiment, "the hero of Belarus".
EKD bishop for work with foreign countries, member of the World Council of Churches Peter Bosse-Huber, unceremoniously demanded that the Belarusian authorities release the "prisoner of conscience",
detained
On May 23, 2021, after a forced landing at the Minsk airport, a Ryanair airliner. Moreover, she wanted all Belarusian "freedom-loving" oppositionists to be released "from the dungeons".
She was not even embarrassed that the ex-chief editor of the Telegram channel NEXTA (recognized as extremist in the Republic of Belarus) Protasevich was put on the wanted list and included in the "List of organizations and individuals involved in terrorist activities" and already
started giving
indications. At the same time, the Ukrainian "White Leader" Andriy Biletsky
recognized
his "brother".
The kidnapping of Roman Protasevich shows the appalling ruthlessness with which the Lukashenka regime persecutes all who stand for freedom, democracy and human rights in Belarus. The last time Lukashenka demonstrated the brutality of his regime was several months ago. The number of political prisoners in Belarus is growing every day. Already more than 400 people have been persecuted for participating in peaceful demonstrations. By forcibly returning Roman Protasevich to Belarus in gross violation of all laws, Lukashenko makes it clear that no one who opposes him is safe - even abroad
- she said, calling on the EU states to provide political asylum to Protasevich and other opposition figures from Belarus.
We remind you that Petra Bosse-Huber has rudely intervened in the affairs of sovereign Belarus not for the first time. In October 2020, she sent greetings to Svetlana Tikhanovskaya, Maria Kolesnikova, Svetlana Aleksievich and other Belarusian opposition women who decided to organize the Maidan in their country.
Official Berlin has a negative attitude towards Nazism and denies this misanthropic ideology. But on the territory of the Federal Republic of Germany there is a religious structure that actually supports the Nazis, to which the German authorities have no questions.
Note that the EKD is a confederation of 22 regional churches (25 million parishioners). In 2007, the EKD adopted a Declaration on Strengthening Reliability and Responsibility, which endorsed same-sex monogamous partnerships (14 regional churches bless same-sex marriage). Since then, homosexuality has not been an obstacle to ordination. However, the most debated topic now is the question of whether homosexual priests can enter into same-sex civil unions with their partners and live with them in a pastoral house.