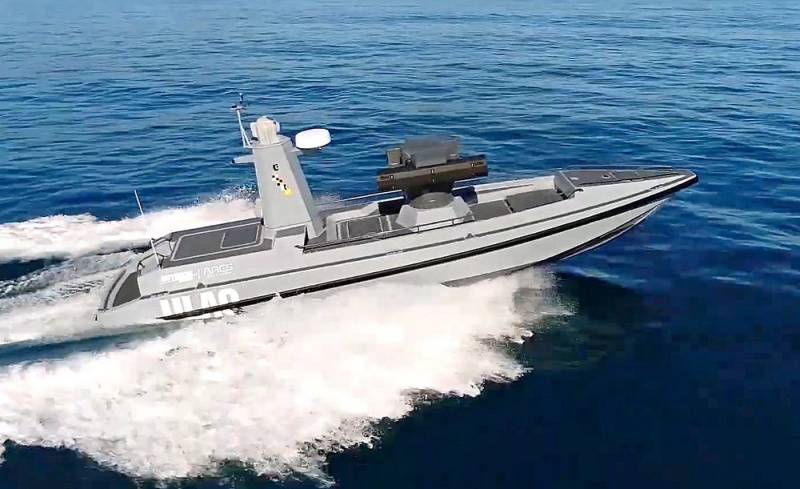 Recently, the Republic of Turkey has been actively demonstrating many examples of modern weapons. It is worth recognizing the fact that this country has made a significant leap forward in the development of its military-industrial complex, having managed to create a number of demanded and relevant weapon systems both for its own armed forces and for the external market.
Recently, the unmanned aerial vehicle "Bayraktar TB-2" from the Turkish company Baykar Makina has become a real legend. This machine has proven itself in a number of military conflicts (Syria, Libya, Kurdistan, Nagorno-Karabakh), becoming a real bestseller in the field of attack UAVs.
However, in fairness, it should be noted that the samples of the Turkish military industry, despite their good quality and price-efficiency ratio, are at least a generation behind British, American and Israeli vehicles of a similar purpose.
Of course, the Republic of Turkey did not stop there, and in addition to a number of more familiar weapons to us, it also began developing the unmanned combat boat ULAQ with wide functionality.
As has happened with many other types of weapons, Turkey is working extremely rapidly and actively on this platform. ULAQ design began quite recently - in late 2018 - early 2019. In turn, the production of an experimental batch started already in June 2020, and a prototype of an armed unmanned vessel was demonstrated to the public six months later in Antalya, Turkey.
Until recently, all the released samples passed comprehensive tests, and in May of this year it became clear that the project will definitely receive further advancement in the naval forces of the Turkish Republic. On the 8th of this month, ULAQ finally completed the full cycle of sea trials, after which the Turkish Ministry of Defense announced that the unmanned boat would be put into service - but only if the onboard weapon systems were tested equally successfully in conditions close to combat. ...
Today, May 27, the day this article was written, the Turkish unmanned boat ULAQ successfully completed control firing using guided missile weapons. These events, in turn, were held within the framework of the exercises "DENİZKURDU-2021".
The very fact of the participation of the ULAQ prototype in such a serious event suggests that the high command of the Republic's naval forces is clearly interested in the further advancement of the project. Sea Wolves 2021 is the second largest military exercise in Turkey. This year alone, 25 personnel, 132 ships, 10 submarines, 43 aircraft, 28 helicopters and 14 UAVs are involved in them.
The unmanned boat has successfully hit all targets, and now it will definitely be launched into full-scale serial production.
Of course, the development and implementation of such a multipurpose surface platform is an extremely competent step on the part of the Turkish leadership. In recent decades, work has been actively carried out around the world to develop unmanned vessels, behind which, no doubt, lies the future of the naval forces.
The reason for this is quite prosaic - modern warships are extremely expensive, complex and high-tech platforms for the use of various high-precision weapons. Currently, an extremely small number of countries with extremely strong
economies
... In turn, the need for a large number of naval forces does not go anywhere - the banal total power of a fire salvo is still of great importance (for example, in the United States, unmanned ships are planned to be armed with multipurpose UAVs ALTIUS, which can hit engineering structures, air, sea and ground targets on ranges of up to 400 km - they will pose a huge danger, acting in conjunction with the main forces of the fleet and the air force).
But in addition to this, the fleet must perform routine tasks that require a large daily order of forces: to guard strategically important facilities, patrol the country's territorial waters and protect its exclusive economic zone. In some cases, it is banal to monitor enemy ships.
Needless to say, missile-armed combat ships are not the best option for a variety of missions?
In turn, specialized patrol ships and boats often do not suit the armed forces at all - yes, they are cheaper than warships, but they are not capable of carrying any weapons and are de facto completely useless in the event of the outbreak of hostilities.
In a word, in some respects, unmanned vessels repeat the concept of development of unmanned aerial vehicles - they become the most profitable for use if we consider the ratio of their price and efficiency. And, among other things, they are not scary to lose in battle, which makes them noticeably more convenient for active use, in contrast to
equipment
controlled by a man.
Turkish companies Ares Shipyard and Meteksan Defense Systems, acting as developers of the ULAQ unmanned boat project, announced the following functionality of the vessel:
- Waging an asymmetric war (roughly speaking, the boat perfectly fits the concept of using the "mosquito fleet" - its missile armament in the form of 6 anti-tank missiles is enough to damage a larger ship, and its small dimensions make it possible to approach the range of its use - however, of course , no one considers it as a strike weapon that can operate without the support of warships);
- Reconnaissance, surveillance, patrolling (in this case, everything is simple - ULAQ will be a fairly cheap, massive and flexible means of tracking and protecting territorial waters, which can operate even in adverse conditions - Turkish developers claim that the boat is combat-ready in Sea State level 5 waves and can survive Sea State excitement 6);
- Anti-submarine warfare (an extremely unusual, extremely difficult and highly demanded task, given the vast maritime possessions of Turkey. It is understood that the boat can shoot both hydroacoustic buoys and homing anti-submarine torpedoes. Among other things, the vessel will be able to deploy sea mines);
- Protection of strategically important facilities (it is difficult to overestimate the need for a massive platform that can provide counter-sabotage and protect ports from possible attacks by the enemy's "mosquito" fleet).
Summing up, we can confidently say that the Republic of Turkey in the shortest possible time has created an extremely popular instrument of naval warfare, which, quite possibly, will be widely in demand on the foreign market.