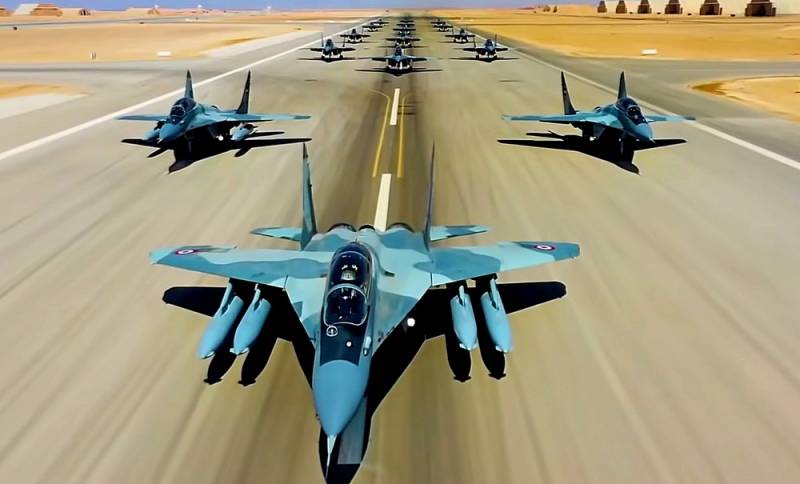 It seems that the story with Egypt's purchase of 46 Russian MiG-29M fighters in 2018 may continue. At the moment, Cairo has begun informal negotiations with Moscow on the purchase of a large batch of our aircraft, which in the future may become a replacement for the American F-16.
It is worth noting that Egypt's decision is well grounded both politically and economically. After the aforementioned purchase of Russian aircraft in 2018, Cairo fell out of favor with the United States. The latter, in order to teach a lesson to the "obstinate partner", imposed sanctions by stopping the supply of components for the Egyptian F-16. As a result, more than 60% of the aircraft turned out to be incapacitated, and Egypt fully realized all the "charms" of friendship with the Americans.
In favor of our aircraft plays and
economic
factor. Thus, the French multi-role fighter Rafal, which, along with the American F-16s, was previously purchased by Egypt, costs almost twice as much per head of its superior Su-35 and almost 8 times the same MiG-29M.
At the same time, our multifunctional MiG-29M / M2 fighters surpass in combat characteristics not only the "old" F-16 block 40, but also the modern F-16C Block 50. In addition, Egypt does not even have to rebuild the existing ground infrastructure for Russian aircraft.
So, is it worth Cairo to pay many times more for airplanes that have nothing to "brag" about except for the dubious promises of "eternal friendship" from the countries that produce them?