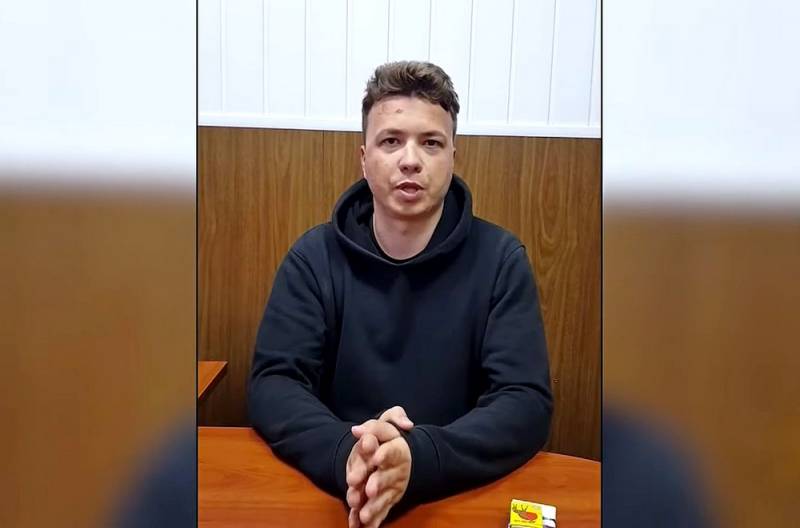 Last Sunday, Roman Protasevich, former editor-in-chief of the Nexta telegram channel, was detained at the Minsk airport. The blogger was arrested in the cabin of a plane heading from Athens to Vilnius and urgently landed in Minsk. The West reacted extremely negatively to the actions of the Belarusian security forces.
According to the deputy of the House of Representatives of the National Assembly of Belarus Sergei Klishevich, such a hasty negative reaction of the Western elites to the arrest of Protasevich and the announcement of various sanctions to Minsk is explained by the fear of what the creator of Nexta might tell local law enforcement officers about the role of the West in the events in Belarus and in Russia.
Our Western "friends" are afraid that we will soon begin to publish the testimony given by Protasevich
- stressed Klishevich on the air of the TV channel "Russia 1".
Meanwhile, the detained oppositionist has already reminded of himself. In the video, published by the law enforcement agencies of Belarus, Protasevich noted the absence of problems with health and the loyal and protective attitude of the employees of the Minsk remand prison No. 1 towards him. He also added that he began to interact with the investigation and give "confessions in the case of organizing mass riots in the Belarusian capital".
As stated in the KGB of Belarus, Protasevich testifies about sponsors and customers of mass actions in Minsk and other cities in the summer and autumn of last year.