Following a Russian-American summit in the Finnish capital, President Vladimir Putin said that Gazprom's state corporation would sign a new transit agreement with Ukraine if both sides of the economic dispute resolve their relationship.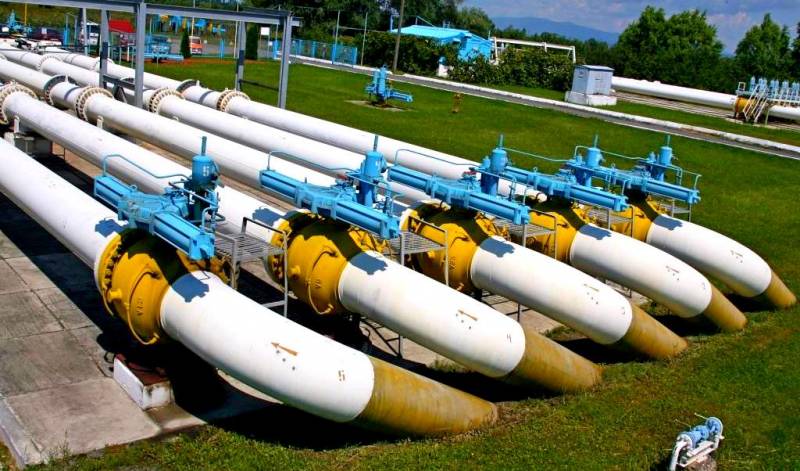 The current agreement on the use of the Ukrainian gas transportation system for pumping Russian gas to Europe expires next 2019. However, the representative of Naftogaz Ukrainy, Yuriy Vitrenko, said that a settlement on the already issued decisions of the Stockholm arbitration was impossible, we can only talk about a new lawsuit against Gazprom for $ 12 billion:
And now it's too late to ask for a "settlement agreement" on these disputes. Gazprom must pay $ 2,6 billion. Plus already another 75 million percent, and also compensate for the costs of enforcement
Recall the essence of the matter. In 2009, Prime Ministers Putin and Tymoshenko signed a long-term contract, according to which, starting in 2010, Kiev had to purchase at least 52 billion cubic meters of gas from Russia every year. But, according to tradition, Ukraine has not fulfilled its obligations, and since 2015 began to purchase gas in Europe under the so-called. reverse circuit. Gazprom rightly pointed to a gas shortage by the counterparty, while Nezalezhnaya complained about the price and demanded its review. According to Naftogaz, the Russian gas monopoly pumped through the Ukrainian gas transportation system a smaller amount of "blue fuel" than was agreed upon in the contract.
In 2014, the parties filed suits against each other in the Stockholm arbitration. The Swedish court partially satisfied the parties 'claims; as a result, Gazprom turned out to owe Naftogaz $ 2,56 billion. The management of the Russian company did not recognize the decision and did not intend to execute it, however, it was forced to reserve an appropriate amount in its budget. The Ukrainian side has begun the process of seizing foreign assets of a gas monopolist in order to enforce debt collection. She managed to achieve some success in this, but the Swedish court of appeal suspended the execution of the arbitration decision. This did not prevent Naftogaz from going to the courts of Switzerland, Great Britain and the Netherlands with a demand to seize Gazprom's assets, including shares in the Nord Stream and Nord Stream-2 projects.
In early July, the Ukrainian company sent a new lawsuit in the amount of $ 12 billion to the Stockholm arbitration, demanding a review of the current tariff for the period from March 2018 until the expiration of the contract concluded in 2009. Yuri Vitrenko declares:
Our requirements are justified, we are confident in our legal position. If Gazprom wants a "settlement agreement" on new arbitration processes, it can out of court pay us this compensation.
In other words, the Ukrainian company will not make any concessions, and the conclusion of a new transit agreement due to its position is a big question. Experts familiar with the situation argue that there are several reasons for this. First, the heads of Naftogaz's top managers are surrounded by fabulous bonuses that they wrote to themselves based on the initial arbitration decision to recover 2,56 billion. It is known that the "victory" over "Gazprom" Ukrainian managers noted 46,3 million dollars in premium from the budget of the company. Secondly, there is a presidential election in Independence, and candidate Poroshenko must demonstrate victories over Russia, even virtual ones.
However, this position of him may go to him sideways. The Ukrainian GTS is in disrepair, funds for its repair are constantly stolen. There are estimates that by itself it will turn into junk by 2020, then transit through Independent will self-destruct. Also, inaction Poroshenko can use it
political
competitors. For example, Yulia Tymoshenko quite rightly states:
But maybe it's worth thinking a step ahead? Who needs a Ukrainian pipe if Gazprom stops supplying gas through it? Losses of the country will be much higher than $ 2,5 billion
And then options are possible. Gradually, Ukrainian transit will be able to replace Nord Stream-2 and Turkish Stream. It is possible that Poroshenko will be replaced by the same Tymoshenko who was behind the 2009 agreements, and she will take a more constructive position. It is possible that instead of a global multi-year transit agreement, short-term ones will be concluded, giving greater flexibility to the Russian side.