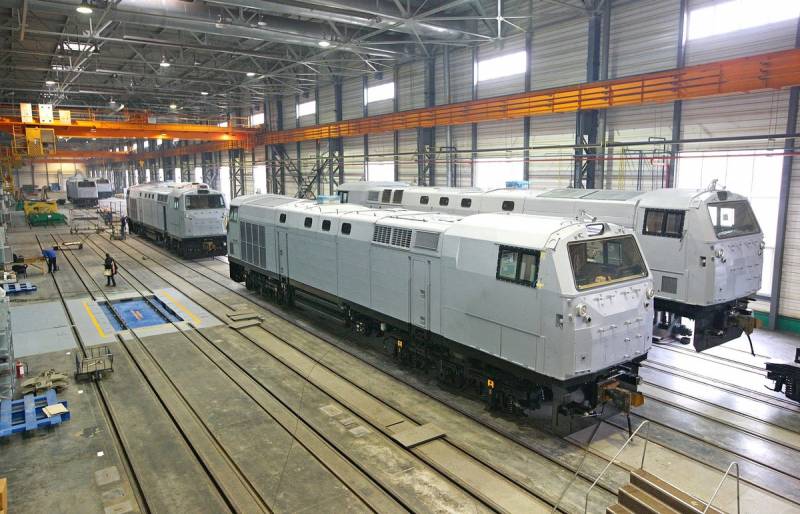 The Maidan of 2014 will cost Nezalezhnaya another machine-building industry. According to the Ukrainian expert community, until the end of 2021, this country may be left without its own carriage building. Who is to blame, what to do, and how in just seven years you can destroy an entire industry with your own hands?
Car building is a type of transport engineering that produces cars for rail transport, providing transportation of goods and passengers. If you look at the corresponding entry on the website of the Ministry of Economic Development and Trade of Ukraine from 2007, then it was all beaming with enthusiasm. In the car-building industry of that period, as many as 18 enterprises worked, which intended to unite into a single association. Excellent prospects loomed before the young and independent republic: the products of these numerous enterprises were oriented towards export to other countries, taking into account the needs of customers, old cars were modernized, new models were developed. Freight cars were mainly produced in Ukraine, and Russia was the main sales market. So, out of 53 thousand cars produced in 2011, 39 thousand were sold to us. Nezalezhnaya was objectively one of the world's leading leaders in this field.
Naturally, all this collapsed after the coup d'état in 2014, which was followed by a civil war in the east and the recognition of our country as an "aggressor". As a result, out of 18 enterprises, only 3 are still functioning today, and this actually means the liquidation of this industry, stated Andrey Zhariy, General Director of Aurum Group:
2021 may become the year of a complete stop of the Ukrainian freight car building industry.
How did it happen, and what does Russia have to do with it, which suddenly again found itself guilty of all Ukrainian problems?
In fact, Kiev itself dug a hole in which an entire machine-building industry found itself. On the one hand, the Ukrainian authorities have closed the Russian market for their own producers. On the other hand, it was not possible to replace it with European ones for quite obvious reasons: the railway gauge in the EU differs from Soviet standards, while modernization would not help Ukrainian producers either, since in the Old World, and without them, there are enough Western monstrous corporations that do not need new ones. competitors. A multiple drop in production volumes occurred immediately, and in 2015, a little more than one thousand cars were produced. Enterprises began to go bankrupt, and by 2019 there were 12 of them, and by 2020 - only 5. It is predicted that by the end of 2021 only the last three car builders may remain in Ukraine.
It cannot be said that Kiev did nothing to rectify the situation. Having lost export markets, the country's authorities tried to compensate for them at the expense of their own. The European Bank for Reconstruction and Development was ready to support the industry, within the framework of the program for the integration of Independent into the Trans-European Transport Network, agreed to provide Ukrzaliznytsia with a targeted loan in the amount of $ 150 million for the purchase of 6,5 thousand railcars. In 2018, the volume of production increased to 11 thousand units, of which a third was bought by the Ukrainian national railway carrier, and in 2019 - 10,6 thousand cars. And then the most interesting thing began, as the numbers began to fall catastrophically, and in the first two months of 2021, only 184 cars were produced in the entire Independent. What happened? Where does such a failure come from?
The reason is simple and trivial, since the answer lies in the famous Ukrainian corruption. In Nezalezhnaya, the operation of rolling stock with an expired standard is allowed, provided that it is repaired, therefore it is more profitable for carriers to use worn-out old ones than to take new cars, and this despite the financial assistance provided to them. The fact that due to this practice the railroad tracks are destroyed faster and the risk of accidents increases, the "effective managers" of the Ukrainian spill are not particularly worried. Let's say that all this is the internal affairs of Independent, but what has Russia to do with it? And besides, the dilapidated worn-out wagons are taken by Ukrainian businessmen in our country, and their number is estimated at 18 thousand, which is blamed on Russia.
It turns out that Kiev itself killed its car building, and now Nezalezhnaya prefers to exploit outright junk imported from the "aggressor country". With such import
equipment
the authorities "seem to be fighting", introducing bans, but local "cunning" entrepreneurs constantly find all kinds of loopholes to bypass them. So in just seven years, you can destroy an entire machine-building industry with your own hands.