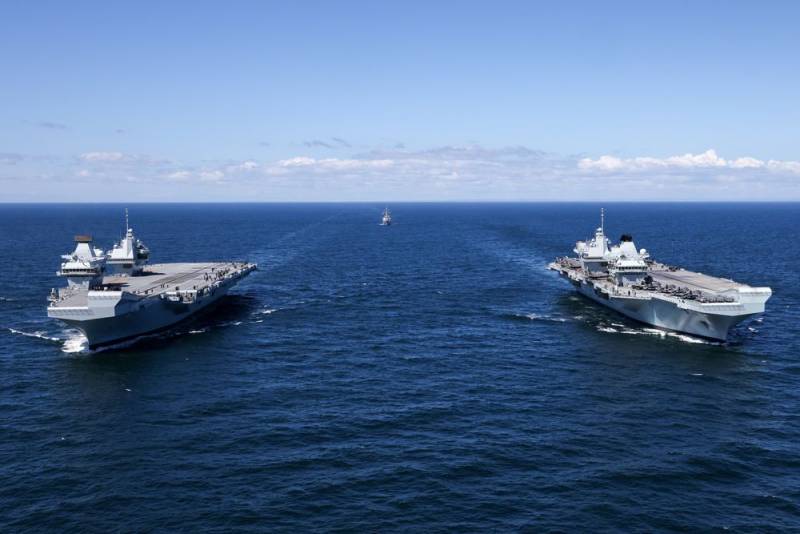 On May 19, 2021, both Royal Navy aircraft carriers, HMS Queen Elizabeth and HMS Prince of Wales, met for the first time at sea after a series of trials, tests and exercises called Strike Warrior. This marked "a historic moment in the renaissance of the aircraft carrier fleet" in Britain, the online edition Naval News reported on 22 May.
With two 65-ton aircraft carriers in service, London was able to continuously strike at the enemy. One of the ships is always ready to respond to global challenges as soon as possible.
I know that a sense of pride is shared by thousands of others, both military and civilian, who have contributed to the resurgence of Royal Navy aircraft carriers over the past decade or more. The strategic importance is great. The construction of one aircraft carrier is a sign of national ambitions. But building two - and managing them at the same time - is a sign of serious national intentions. Few other IUDs can do this. Great Britain again in the forefront of the maritime powers
- said the commander of the British AUG Commodore Steve Moorhouse.
During Strike Warrior, the British fought the warships of NATO's Maritime Standing Group 1 to prove they could conduct high-intensity operations in response to a wide range of crisis and conflict situations. The exercise was attended by 31 ships, 3 submarines, 150 aircraft and 13400 personnel from 10 countries.
HMS Queen Elizabeth is now the flagship of the inter-fleet AUG, which sailed to the Indo-Pacific on 22 May, where the Royal Navy has recently established a permanent presence. AUG will return to the United Kingdom in early December. Along the way, AUG will take part in a large number of different exercises with allies. Prior to sailing, the aircraft carrier was visited by Prime Minister Boris Johnson and Queen Elizabeth II. At the same time, HMS Prince of Wales will still be in the home port of Portsmouth.