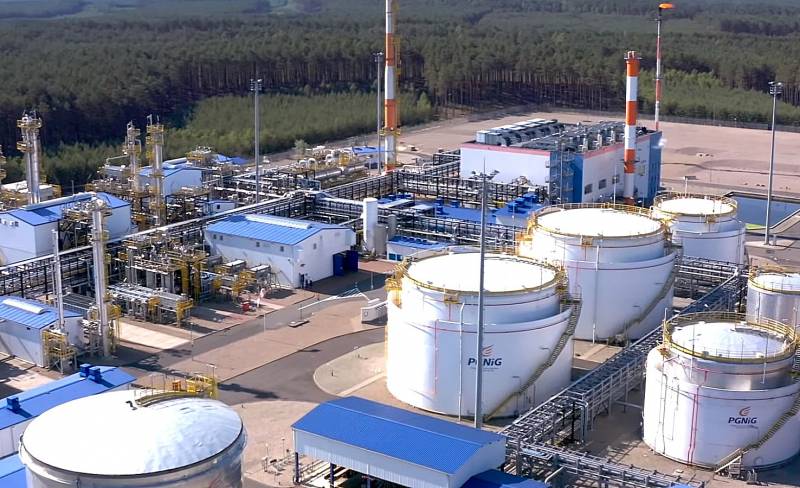 The recent statement of the head of Gazprom Export, Elena Burmistrova, caused a mixed reaction in the Russian Internet community. She said that negotiations on the extension of the gas supply agreement with Warsaw after 2022, when the current agreement expires, are still ongoing, and called Poland a "great country" and a "reliable counterparty." Taking into account the historically difficult relations between our countries, some commentators considered this "subtle trolling", while others - "toadying." How should one evaluate the statement of the head of the export division of the Russian state corporation?
The relations between Russia and Poland in the gas issue have two dimensions - gas supplies for domestic consumption via the Yamal-Europe pipeline and transit to neighboring countries. In 2020, Warsaw refused to renew the transit agreement, and now Gazprom is forced to book short-term transit facilities from the Polish operator Gaz-System in accordance with European energy rules. In addition, a 1996 treaty is still in force between Russia and Poland. In accordance with it, Warsaw receives 9,8 billion cubic meters of gas annually, while at the minimum PGNiG must buy 8,7 billion cubic meters. This agreement expires in 2022, and Poland, which has constantly criticized its terms, insists that it will not renew the agreement with Gazprom either. This agreement is the cornerstone of Russian-Polish gas relations, around which both sides play their games. Let's see what specific goals Warsaw and Moscow are trying to achieve, and then we'll try to draw a conclusion about who beat whom.
It is extremely important for Gazprom that Poland renegotiates a supply agreement with it after 2022. It should be borne in mind on what background this behind-the-scenes struggle is taking place. The EU leadership announced a 30-year plan to gradually phase out the use of fossil fuels (oil, gas and coal) in its energy sector with a transition to "green" sources. This means that the consumption of "blue fuel" will gradually but continuously decrease, and the domestic monopolist will lose its sales market. It is important for him to try to keep each of his solvent European clients, including Poland with its 8,7-9,8 billion cubic meters per year. Hence, by the way, and Mrs. Burmistrova's compliment about the "reliability of the counterparty."
At the same time, Warsaw's ambitions are much broader than those of Gazprom. The Polish leadership itself wants to turn its country into a regional gas hub, "moving" neighboring Germany and taking away the share of the Eastern European market from the Russian monopolist. A lot has already been done for this: an LNG terminal has been built in Swinoujscie with a capacity of 5 billion cubic meters per year, and now its capacity will be expanded to 7,5 billion. Another floating LNG terminal with a capacity of 4,5 billion cubic meters per year will be launched in Gdansk. The construction of the Baltic Pipeline has begun, through which Poland will receive up to 10 billion cubic meters of Norwegian gas a year. Thus, in a few years Warsaw will indeed be able to completely close the issue of dependence on gas supplies from Russia.
But what about turning Poland into a gas hub competing with Germany? The Poles will close their needs at the expense of American LNG and the Scandinavian pipeline, but there will not be so much surplus. What remains will be enough for relatively small supplies to the Baltics via Lithuania and to neighboring Ukraine. And then you have to invest decently in infrastructure. Where to get additional volumes if Poland flatly refuses to work with Gazprom after 2022?
Yes, all of the same "Gazprom", only on more favorable terms for Warsaw, and for this, the top management of the Russian state corporation must be properly "processed". First, the Poles defiantly ensured their energy independence. Then they proved the seriousness of their intentions by refusing to extend the transit agreement and at the same time suing Gazprom a tidy sum through the Stockholm arbitration. Now they have set a deadline for when they stop purchasing, for 2022. The clock is ticking and the Baltic Pipe and LNG terminals are being built. Judging by the statement of Elena Burmistrova, Alexey Miller's team secretly continues to negotiate the extension of the agreement with Warsaw. And then the Poles made a "knight's move".
Recall that we recently told (link https://topcor.ru/19787-smozhet-li-polsha-otnjat-u-rossii-gazoprovod-jamal-evropa.html) how the operator Gaz-System announced its "chic" national energy development plan. Within its framework, it is planned to take the Polish part of the Yamal-Europe trunk pipeline from Gazprom and adapt it to suit our internal needs. To do this, the pipeline only needs to be connected to both LNG terminals on the coast and to the Baltic Pipe, while building additional entry-exit points and compressor stations. Brilliant.
However, for this, it is necessary to somehow take away 48% of the shares of EuRoPol GAZ, owned by Gazprom. And this is where the fun begins. Poland can redeem this share from Russia, can offset it by paying off the debt in shares in the framework of some regular lawsuit, or it can simply nationalize it. In all cases, the Russian monopolist will be at a loss. Even if his share is bought out peacefully, the Poles will obviously try to seriously bring down the market price. All other options are even worse: lawsuits, fines under various pretexts, or even nationalization.
Let's think, why did the Polish Gaz-System publish such plans? Perhaps to put psychological pressure on the management of Gazprom. And, apparently, Warsaw succeeded. That is why the head of Gazprom Export Burmistrova began to crumble in pleasantries, clearly calling on the "reliable counterparty" not to slip into harsh scenarios. So what can Poland get from the Russian monopoly? Probably, the extension of the contract for the supply of Russian gas after 2022, but with a very significant discount for the "great country". Then Poland will receive additional volumes of gas that it can resell to its neighbors, increasing its status as a regional hub.