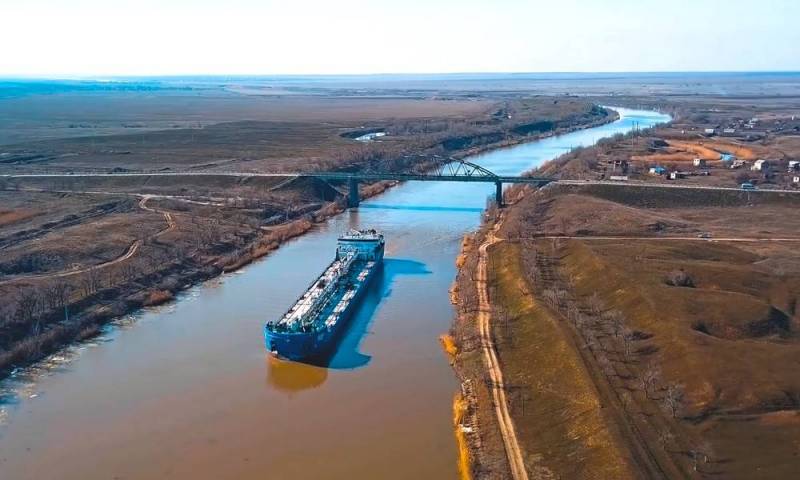 The Black Sea Basin, the Caucasus and the Caspian Sea are key points in the construction of any transport corridor from Asia to Europe. Bypassing Russia, of course. Currently, several international projects are actively pushing their elbows in this region. Who will prevail and take control of the transit of Chinese goods, and how should our country react to this?
Today it is customary to talk a lot about Turkey's ambitions, but not everyone remembers that the European Union was the first to try to straddle this topic. Back in 1993, an international program called TRACECA (Transport Corridor Europe-Caucasus-Asia) was created, which included Armenia, Azerbaijan, Georgia, Kazakhstan, Turkmenistan, Kyrgyzstan and Uzbekistan, and then Ukraine and Moldova, Turkey, Romania joined them. and Bulgaria, Mongolia and Iran. As you can see, everyone took part in it, except for the Russian Federation, since the main goal was to create a transport corridor bypassing our country. This route was named "Europe-Caucasus-Asia" and is funded by the EU. The position of the Ministry of Foreign Affairs of the Russian Federation was that this project is intended to "strengthen centrifugal tendencies among the CIS countries." The main obstacle to the implementation of TRACECA has become the Caucasus, a traditionally difficult region.
President Erdogan was able to cut this "Caucasian knot" by supporting Baku in 2020 in its war with the Armenians over Nagorno-Karabakh. As a result, losing Yerevan was forced to open free transit for the Turks through its territory to its allied Azerbaijan. Ankara received a land corridor to the Caspian Sea, from where the way to Central Asia opens. The "Sultan" plans to create a kind of "logistic superpower" on the basis of the former Soviet Central Asian republics. Within its framework, the "Middle Corridor" project from China to Europe can be implemented, where Turkey should become "Beijing's window to the Mediterranean". If President Erdogan's ambitions come true, this interstate
economic
the union of Turkic-speaking countries has a chance to grow to the "Great Turan", as Russia was once created along the trade route "from the Varangians to the Greeks."
It is obvious that such infrastructure projects, implemented bypassing Russia, objectively pose a threat to our national interests. It is necessary to answer somehow, but how? It is not our method to fight everyone in a row, we will not crush our competitors with economic sanctions, and we will not be able to convince them in words. It is necessary to present an adequate alternative to the transport corridor, which will make Russia the key assembly point.
Such could be the Eurasia shipping canal, which should connect the Caspian Sea and the Azov-Black Sea basin, about which we will discuss in detail
told
earlier. It can be used by merchant ships with a carrying capacity of up to 50 thousand tons, which will dramatically increase its attractiveness for Kazakhstan, Turkmenistan, Iran, India and China. Despite how fervently Ankara seeks friendship with the PRC, Beijing does not forget that Turkey is still the US ally in the NATO bloc, and therefore one should not stake too much on this "window to the Mediterranean". Perhaps even more important for Russia will be the fact that neighboring Kazakhstan and other Central Asian republics of the former USSR will be more closely economically connected with our country, and not with the ambitious Ankara and its active expansionist
policies
.
However, a very important question arises here: is it necessary to fence the new Eurasia canal from scratch, if there is already the Volga-Don canal, which already connects the Azov and the Caspian rivers along the rivers? Yes, the latter is already packed to capacity and has a lot of bandwidth restrictions, but you can expand it, right? The corresponding plans have been announced for a long time.
In fact, everything is not as simple as it seems at first glance. There is no final design documentation for Eurasia and the Volga-Don Canal yet, but some preliminary calculations have already been done. It is estimated that according to the first, the volume of earthworks will be 500 million m³, reinforced concrete work at six locks - 3 thousand m³, and the fastening of slopes with reinforced concrete slabs - from 074 thousand m³ to 4,5 thousand m². The second option will require 5,4 times less land to be excavated, and the volume of reinforced concrete work at the locks will be approximately equal. As a result, the expansion and deepening of the simpler Volga-Don canal will cost approximately 50 times less than building Eurasia from scratch, taking into account the required Volga-Chograi supply channel. Also, operating costs will be almost twice as high: 3 billion rubles a year against 4,6 billion.
It would seem that Eurasia is losing with a crushing score to a more experienced player. However, there is one, but very important ecological nuance. These shipping channels are necessary for the same Kazakhstan, first of all, for the export of oil and oil products. If a line of tankers goes along the Volga-Don Canal, sooner or later accidents with a spill of crude oil and its refined products are possible. If on Eurasia, with its system of locks, the consequences of a leak can be minimized by localizing the spilled oil slick, then for the lower reaches and deltas of the Volga and Don it will become a real ecological disaster. The current will rapidly carry hazardous substances along our inland rivers, polluting water, channels and shallows with them.
Anything can happen. Who would have thought until recently that the reliable and proven Suez would be blocked for several days by a giant dry cargo ship that lost control? Risk is a noble cause, but is it worth risking your rivers?