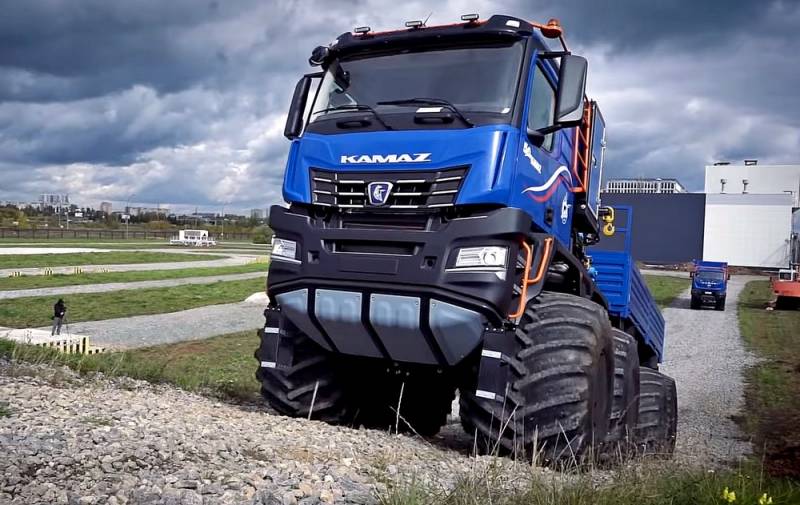 PJSC "KamAZ" announced plans in the near future to test a prototype of the heavy all-terrain vehicle KamAZ-6355 ("Arctic") in Yamal. A prototype with an 8x8 wheel arrangement will participate in the tests.
The company claims that the machine will be able to transport loads weighing up to 16 tons in difficult conditions of the Arctic. The dimensions of the newest all-terrain vehicle are 12x3,38x3,9 meters, the gross weight is 40 tons, and the ground clearance is 0,6 meters.
As a power plant, the KamAZ-6355 uses the newest R6 unit of the Euro-5 level with a single-stage turbocharging system and a power of 450 hp. This engine will allow the oversized truck to accelerate to 50 km / h.
The six-meter body of the "Arctic" can accommodate a standard 20-foot container. A hydraulic crane-manipulator unit with a lifting capacity of up to three tons is responsible for loading and unloading operations.
The developers assure that with the start of the KamAZ-6355 engine there will be no problems even in severe frosts due to the battery, which gives an impulse to the starter, as well as a pre-heater with a capacity of 30 kW.
For the crew of the all-terrain vehicle, it is planned to create a fully autonomous living module with all the amenities, the electrical appliances of which will be powered by a gasoline generator. In the absence of an opportunity to go to the terrain due to severe weather conditions, such a solution will provide a comfortable stay for three people inside the all-terrain vehicle for up to two weeks.
To date, PJSC "KamAZ" has already assembled two prototypes. In addition to the aforementioned 8x8 model, the company has a smaller version with six pairs of wheels.