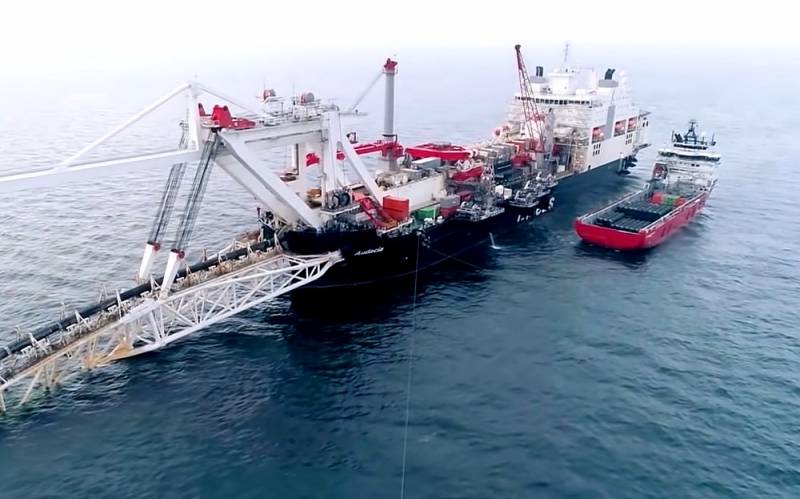 In the past few days, the information space has been filled with several messages at once, which look like a breakthrough on the part of Gazprom in the implementation of the Nord Stream 2 project. The White House refused to impose sanctions against the operator of Nord Stream 2 AG. Germany has issued a permit to continue construction of the pipeline in its territorial waters. And Ukraine began to calculate the multibillion-dollar losses from the launch of the Russian gas pipeline bypassing its territory. However, it is still too early for all of us to open champagne, and here's why.
At first glance, everything is quite optimistic. Gazprom's management expects the protracted construction to be completed by the end of 2021. Serhiy Makogon, head of the Ukrainian GTS Operator, commented on the prospects as follows:
I estimate the direct and indirect losses of Ukraine from the launch of Nord Stream 2 at $ 5-6 billion a year.
This impressive amount is made up of several components. Let us remind you that Gazprom signed a 5-year transit agreement with Kiev on gas supplies to Europe, if terminated, Nezalezhnaya will directly lose $ 1,5 billion a year. In this case, Kiev will have to increase purchases of "blue fuel" from Europe, where the price for it will be $ 50 per cubic meter higher. This will lead to higher costs for industry and higher costs of the population, which is why the Ukrainian
economy
will lose several more billions. It will be possible to compensate by increasing domestic gas production. Is that all, kaput? Let's wait a little and then take Square with our bare hands?
Alas, everything is too simple to just happen. Geopolitics as a sport: you can only play the way your opponents allow you, and there are too many of them in this game. Let's look at the objective interests of all four parties to the negotiation process - the Russian Federation, the EU, the United States and Ukraine - and try to put this puzzle together. It should be borne in mind that all this is happening against the background of global changes in the world economy, where the leading powers have started "decarbonization", which implies a gradual and consistent decrease in the consumption of hydrocarbons and a transition to renewable "green" sources on the horizon of 20-30 years.
So, by 2050, the European Union intends to make its economy environmentally neutral, and for the transition period, when the process of abandoning the use of nuclear power plants and coal generation is underway, it needs the cleanest and most environmentally friendly "blue fuel". At the same time, the EU does not want to be dependent on any one supplier, therefore, they diversify the sources of production as much as possible: pipelines and LNG terminals are being built on the coast, an internal infrastructure has been created to transfer energy volumes between the member states of the Union. Germany, the leader of the EU, is interested in buying Russian gas, as well as becoming a major gas hub to increase its economic influence on its neighbors. Objectively, Nord Stream 2 is needed by both it and other countries of Western Europe, but one important nuance should be taken into account.
In a rapidly changing climate and abnormal winters, when unusually warm weather for the season changes to severe frosts, huge Ukrainian underground gas storage facilities are needed to balance gas consumption in Germany and the EU. In order for them to continue to work, gas supplies from Russia through Nezalezhnaya must be maintained. This means that someone must repair the dilapidated Ukrainian GTS and keep the economy of this devastated country afloat from sliding into a state of complete collapse. It is not hard to guess that Russia and its Gazprom are considered as the main candidate for this "honorable" role in Europe.
In this, Kiev is fully in solidarity with the EU leadership. For the corrupt Ukrainian authorities, endless repairs and maintenance of a leaky GTS is a real "gold mine" where Russian budget funds will dissolve without a trace. In addition, the forced preservation of transit through Independence is for her a kind of "shield" from the Kremlin, which is tied by hand and cannot afford real military action against a hostile neighbor.
For the United States, it is important by squeezing Gazprom out to clear a place in the European gas market for its LNG producers. Under pressure from Washington, Brussels extended the Third Energy Package to offshore pipelines, and Nord Stream 2 was automatically left half empty. Due to US sanctions, the construction of the pipeline was actually frozen for a year, and now the Russian state corporation is trying to complete it on its own. It is quite possible that the truth will soon be completed, but do not forget that later it will still have to be certified somehow to start work. Note that the information about the US refusal to impose sanctions against the operator Nord Stream 2 AG and its head is not entirely true. In fact, the restrictive measures are being introduced, they are simply being "suspended". By the way, what is stopped can be resumed at any time.
What does the Kremlin need? It is not known if the Russian leadership has any well thought out and consistent
policy
regarding Ukraine as a hostile state and what needs to be done (or not done) with it, but it is obvious that it is in its interests to preserve gas supplies to the European Union. At any cost. If there is no foreign exchange earnings from the export of hydrocarbons, the federal center will not be able to fulfill its financial obligations, which will inevitably lead to grave socio-economic and political consequences in our country.
What do we have in the bottom line. Washington clearly would like to put a final end to Nord Stream 2, but the EU, represented by Germany, will definitely not agree to this, which means they will have to negotiate a compromise among themselves. Nobody will allow the Kremlin to throw off the Ukrainian yoke from its neck either, therefore, the calculations that with the launch of the bypass gas pipeline will stop transit through Nezalezhnaya are very naive and untenable. Western countries will not allow Russia to ruin Ukraine and then take it with their bare hands, they themselves need it. A certain possible balance of mutual interests is emerging: the United States ultimately allows Gazprom to complete and certify Nord Stream 2, which will operate only at 50% of its design capacity, but in return, the state corporation undertakes to maintain transit through the Ukrainian GTS in guaranteed volumes and after 2024 year. Accordingly, it will be necessary to invest in the modernization of the worn-out main pipeline. The EU and the US conclude an agreement that creates a legal mechanism to "turn off" the bypass Russian gas pipeline if the Kremlin suddenly decides to stop pumping through Nezalezhnaya, or even start some kind of active hostilities in the East of this country. Thus, instead of "freeing our hands in relation to Donbass," this gas pipeline will only bind them closer to us.
Other options are possible, of course. We will closely monitor the development of the situation and the emergence of new inputs.