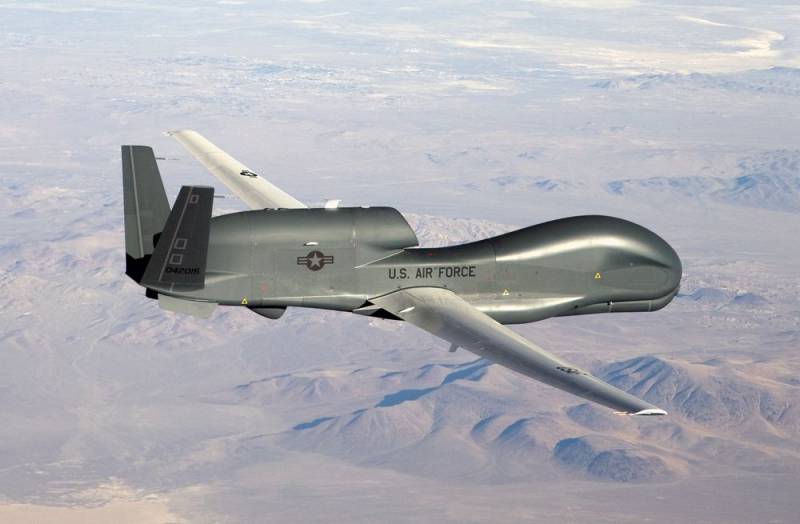 Over the past few years, US aviation has become a regular in the Ukrainian sky and the Black Sea. On May 18, 2021, the American strategic reconnaissance UAV Northrop Grumman RQ-4B-40 GlobalHawk of the US Air Force (tail number 11-2049, callsign FORTE10) once again flew from Sigonella airbase (Italy).
Initially, he conducted reconnaissance of the Black Sea coast of Russia, then flew along the northern border of Crimea to the demarcation line in the Donbass. After that, the scout made several flights of Berdyansk - Kramatorsk - Starobelsk. He did not finish the last flyby and in the Izyum region he unexpectedly changed the route to Pavlograd - Dnepr (Dnepropetrovsk) - Nikolaev.
Probably, at this moment, the UAV could have been subjected to some kind of impact. Therefore, he made an automatic maneuver out of the range of the unfriendly signal (beam). This was already at the end of April, when the American "guest" was too close
flew up
to the border of Russia. Then he was saved by a sharp turn of 180 degrees.
During the new adventure of FORTE10 in the airspace of Ukraine, interesting details emerged. Usually, the UAV, returning to its home site, flew the Dnieper in a westerly direction, and then turned south. This time, the UAV contacted the Ukrainian dispatchers and requested an unusual return route through Nikolaev, that is, it changed direction to the southwest for the fastest completion of the mission.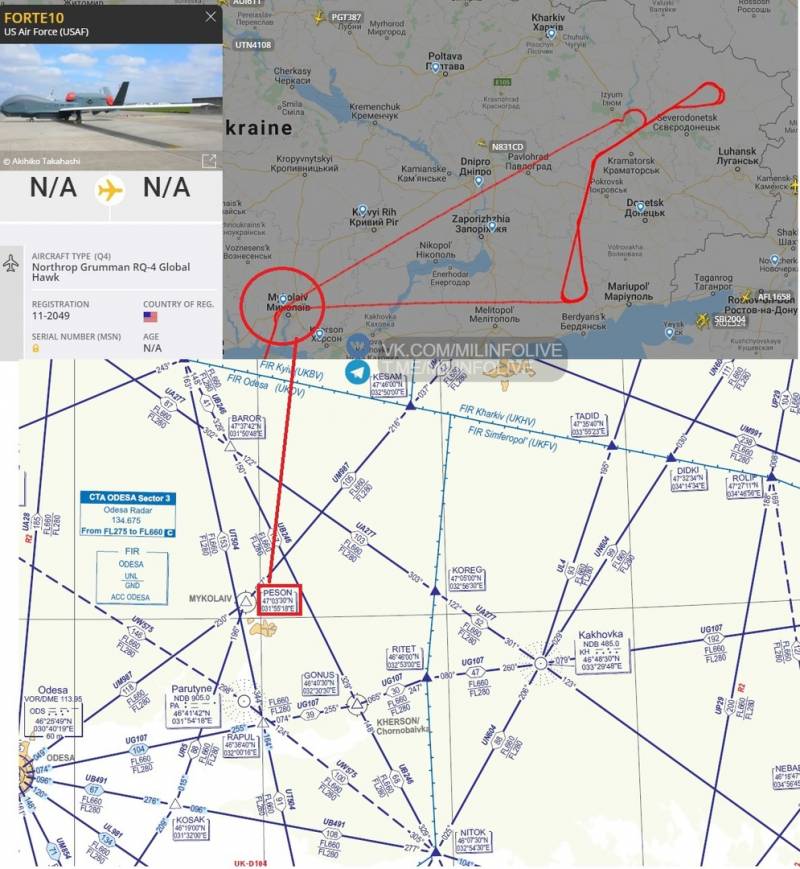 UAV operators have a communication channel with dispatchers. The scheme of work is as follows: operator - satellite or a group of spacecraft in orbit - UAV - dispatcher. According to sources monitoring movements in the airspace, changing the usual route can also indicate the likelihood of problems that have arisen. An audio recording of the communication between the Gorodok-Kontrol dispatcher in Dnipro and the UAV operator has even appeared on social networks.