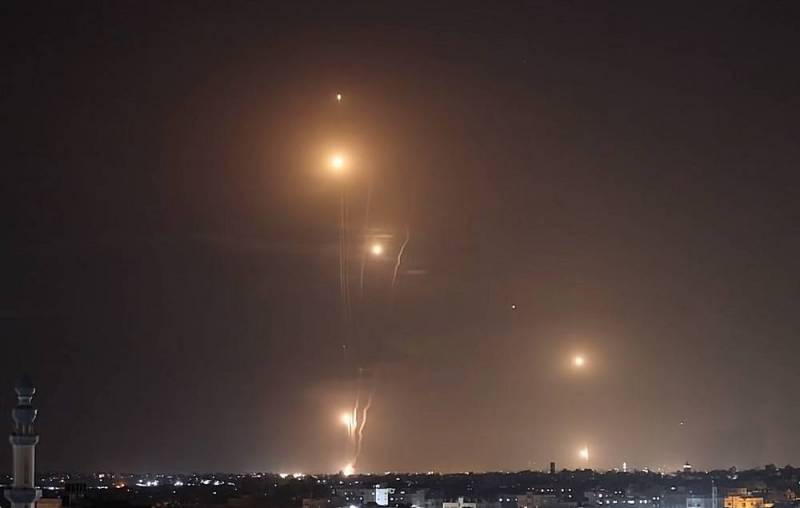 The armed conflict between Israel and Muslim countries is gradually expanding. On May 18, 2021, the Israel Defense Forces (IDF) launched a rocket and artillery strike against Lebanon in response to the unsuccessful launch of six rounds of ammunition from its territory.
It should be noted that the IDF has already
reported
about the shelling of Israeli cities not only by the Hamas movement from the Gaza Strip, but also by pro-Iranian organizations from the territory of Lebanon and Syria. This time, the missiles from Lebanon did not reach Israel.
Six unsuccessful missile launches from Lebanon were recorded, the ammunition did not cross the Israeli border
- said in the IDF communique.
The agency added that the launchers in Lebanon were suppressed by return fire. At the same time, Israeli media and social networks clarify that sirens warning of the attack were turned on in cities in the north of the country, and residents of the settlements of Misgav Ama and Metula speak of "echoes of the explosions." In turn, the Arab media and social networks inform that the Israeli military launched at least two dozen ammunition at the village of Kfar Shuba in southern Lebanon.
Note that exchanges of strikes between Arabs and Israelis do not stop after
attempts
On May 10, the Israeli authorities take control of the Al-Aqsa mosque on the Temple Mount in Jerusalem and evict Arabs from the adjacent Sheikh Jarrah area. According to the latest data from the Palestinian National Authority, as a result of Israel's actions, 200 people were killed, 1307 were injured of varying severity. The Israeli authorities reported the deaths of 10 of their citizens.
Hamas declared May 18 a "Day of Fury", recommending the Palestinians to attack the Israelis by any means possible. At the same time, the Joe Biden administration approved the sale of aircraft weapons to Tel Aviv in the amount of $ 735 million (mainly guided JDAM bombs).