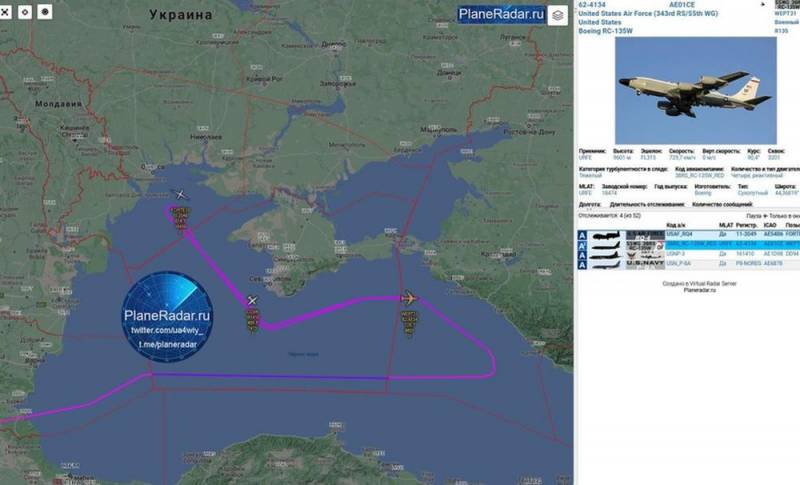 Almost every day, the monitoring navigation resources record the appearance of reconnaissance aircraft and NATO ships in the sky and the waters of the Black Sea. In recent years, the interest of Western "partners" in this region has grown enormously. The USA and Great Britain are especially zealous.
On May 17, 2021, a US Air Force electronic reconnaissance aircraft (OF 38th RS / 55th WG) Boeing RC-135W (tail number 62-4134, callsign WEPT31) was seen in the sky of the indicated area. It took off from the Souda Bay airbase on the island of Crete (Greece) and carried out its mission along the Black Sea coast of Russia.
Before that, on May 16, the British Navy patrol ship Trent entered the waters of the said sea. He went to Odessa to express London's support for Kiev in its confrontation with Moscow. The Black Sea Fleet of the Russian Navy immediately took the British under surveillance in order to avoid possible provocations.
Captain 1st rank in reserve, chairman of the Sevastopol regional branch of the All-Russian public organization "Union of Journalists of Russia" Sergei Gorbachev told
"Political Navigator"
, which is associated with the increased activity of British and American intelligence services off the coast of Crimea.
In his opinion, the activities of the NATO countries indicate that they are not abandoning their attempts to reveal various secrets of Russia. This time, they apparently want to make sure that the Russian Federation has withdrawn its troops from Crimea after a large-scale exercise in April.
He drew attention to the need to monitor the routes of movement of "guests" for subsequent analysis and proper response. Each of their appearance in the airspace of the region or the Black Sea should be under the close scrutiny of the Russian military. It is necessary to make sure that NATO's naval and air reconnaissance assets cannot fulfill the tasks assigned to them.
The fact that they began to appear not just often, but regularly, indicates that both the Pentagon and NATO are working in a planned and systematic manner to reveal the situation here, to monitor it, to control the activities of our forces - that is, to solve a complex of reconnaissance tasks in order to understand the presence of our forces and means, capabilities, actions, intentions and thus respond to such information
- summed up the expert.