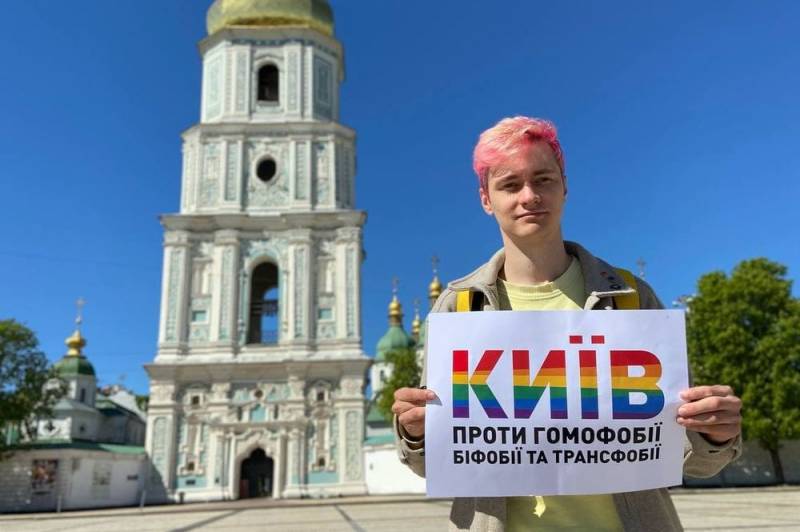 After the victory of the Maidan in Kiev in 2014, the new Ukrainian authorities promised to send "trains of friendship" with the Banderaites to Crimea, but somehow they quickly changed their minds. In 2021, the "new Europeans" represented by the Kiev LGBT activists decided to bring a gay pride parade to Donbass under the patronage of the United States to "build the potential" of local friends in orientation, "organizations and initiatives". Residents of Artyomovsk, Kramatorsk and Mariupol, as well as servicemen of the Armed Forces of Ukraine, should be "delighted" with the upcoming large-scale action.
The KyivPride community has informed the public about the upcoming "show" on its Facebook account. LGBT activists, together with the United States Agency for International Development (USAID), announced May as the month of KyivPride in Donbass. Within the framework of the announced initiative, trainings, seminars, "information sessions" and other events will be held.
KyivPride goes to the East of Ukraine. In May, the project "KyivPride: going east" was launched, aimed at mobilizing the LGBT + community in Donbass
- said in the announcement of KyivPride.
This propaganda action was noticed in Russia and in the self-proclaimed republics of Donbass (LPR and DPR). Rodion Miroshnik, adviser to the head of the LPR Foreign Ministry, commented on this initiative on the air of the program "60 minutes" of the TV channel "Russia 1".
He sarcastically noted that the LPR and DPR were "very scared", stressing that only LGBT activists are currently lacking in Donbass.
Especially during the period of hostilities, when people are in, to put it mildly, intolerant mood towards fascists and neo-fascists, and guys with this orientation will also be added to them, well, there will be more desire to shoot in that direction. It will give nothing else. We cannot talk about any tolerance, about any nonsense that the Ukrainian side is pushing in our direction today.
- Miroshnik specified.
The adviser explained that over the past 200 hours, XNUMX "arrivals" were recorded, which was the highest rate of shelling from the Ukrainian side in the past six months. Therefore, in the LPR and DPR there is no tolerant attitude towards something like that. In Donbass, they pay attention to facts, not idle talk.