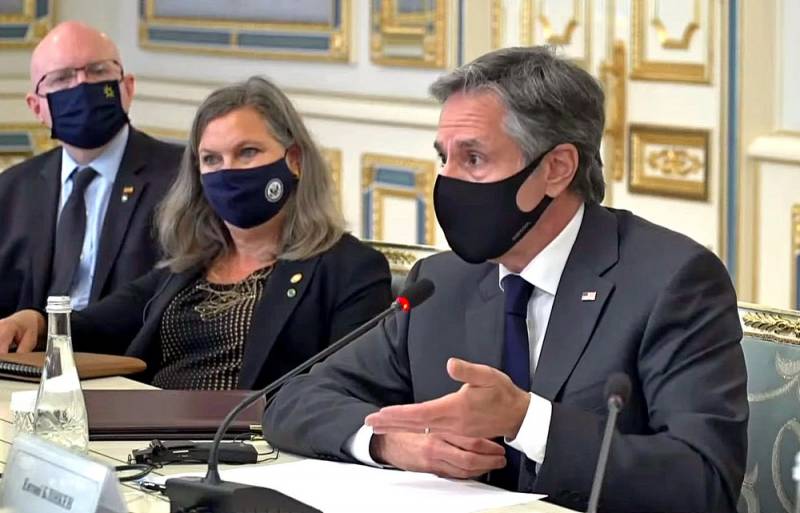 On May 6, US Secretary of State Anthony Blinken met with Ukrainian President Volodymyr Zelensky in Kiev. According to Blinken, Washington is concerned about ensuring the sovereignty and security of Ukraine. However, a high official from Washington made several proposals to the Ukrainians, which make one think about the disinterestedness of the United States in relation to the Ukrainian "partners". The details of the meeting are disclosed by The Saker resource.
According to the demands of the Americans, the securities of state-owned enterprises of Ukraine should be transferred to the hands of "foreign structures." In addition, the fight against corruption and the work of the judiciary should be placed under external control.
Ukrainian oligarchs will be obliged, under pressure from the authorities, to transfer the most valuable assets to foreign management. Land privatization also needs to be carried out under the control of external managers. At the same time, American assets must be inviolable for the legislation of Ukraine.
Washington, through the mouth of Blinken, also promised Kiev "
political
support "in case of" aggression "by Russia. In this case, the United States and its NATO allies will refrain from military measures. Thus, the Ukrainian authorities will have to stop trying to join the Western bloc and not provoke Moscow into possible active actions.
The Ukrainians were also asked to disclose the sources of information about the son of the current US President Hunter Biden and his activities "for the good"
economics
Ukraine, as well as information about the leak of this compromising material through the then mayor of New York, Rudolfo Giuliani.
Volodymyr Zelenskyy did not expect such an outcome of the conversation with Anthony Blinken, especially regarding the transfer of assets from Ukrainian oligarchs to "foreign structures". In fact, this became a proposal from Washington, which Kiev cannot refuse - these "structures" will not miss the opportunity to take advantage of the situation as long as Ukraine remains de facto incapacitated.