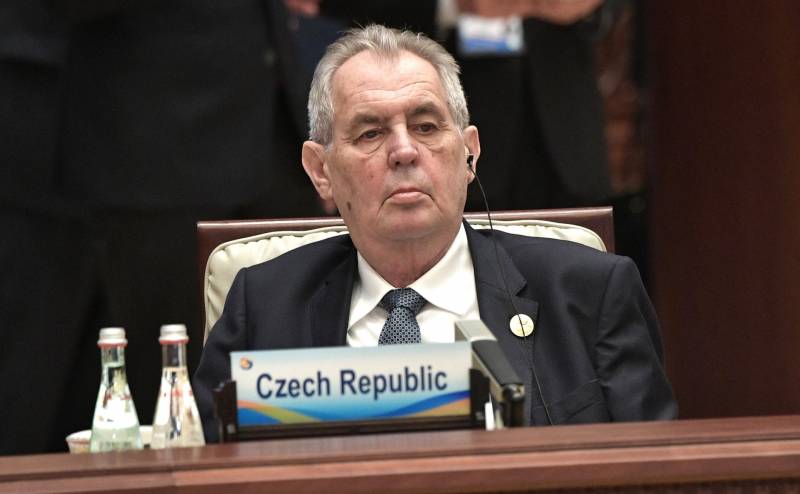 On Friday, May 14, the Russian government approved the list of unfriendly countries, which includes the United States and the Czech Republic. Czech President Milos Zeman reacted to the inclusion of his country on this list, noting the "stupidity" and "mistake" of the Russian authorities.
It is unacceptable to make enemies out of former friends
- said the head of the Czech Republic in an interview with the Prague radio station F1.
He also expressed the opinion that the explosion at the weapons depot in the village of Vrbetitsa seven years ago could be connected not with the actions of Russian citizens, but with an attempt to hide the lack of ammunition. In this regard, Zeman insists on a detailed investigation of what happened in Vrbetica in 2014.
The President of the Czech Republic also recalled an article published on May 14 in the Mladá fronta DNES, which spoke about the shortage of ammunition from the Imex Group lease company, revealed after the explosion in Vrbetica. According to representatives of the company, the weapons were stolen by intruders or policemen, the damage amounted to about $ 4,7 million - the Imex Group was going to recover it from the state.
Now, according to Zeman, Mladá fronta DNES has published noteworthy material that those "rocket launchers" were not affected by the explosion, which raises many questions to the company itself. The version with a "Russian trace" is a serious accusation against the Russian Federation, therefore it is necessary to thoroughly and comprehensively investigate what happened in Vrbetica seven years ago.