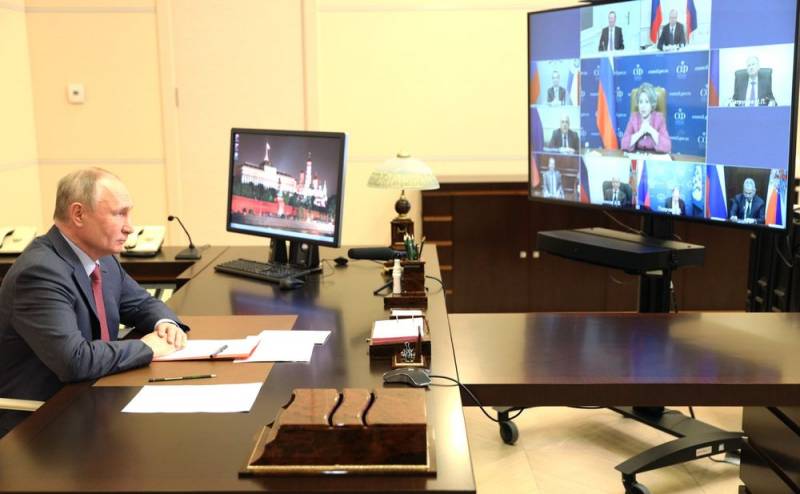 On May 14, 2021, Russian President Vladimir Putin, during a videoconference meeting with permanent members of the Security Council of the Russian Federation, touched upon what was happening in Ukraine, drawing attention to the "cleaning up of the political field." Kiev was surprised by the words of the Russian leader about their country.
Apparently, and this is very sad, Ukraine is slowly but surely being turned into some kind of antipode of Russia, into some kind of anti-Russia.
- Putin said.
He clarified that the Ukrainian territory is becoming a place from which Moscow will regularly receive "
news
», Requiring some attention from the point of view of the security of the Russian Federation.
On the same day, the former Foreign Minister of Ukraine Pavel Klimkin commented on the words spoken by the President of Russia on his Facebook account.
Putin's words today about us as "anti-Russia" should not be underestimated. This is not another find of speechwriters. Putin speaks of us as a constant source of problems for Russia and its antipode. He has never used such vocabulary. The Kremlin's response will be asymmetrical and very tough
- wrote Klimkin.
Many users of social networks noticed that this time Putin did not use the usual phrases "brothers and sisters", "one people", "common history", they kind of turned into "anti-Russia". One part of the users was upset by this, while the other took what was said with enthusiasm.
We remind you that in February, the President of Ukraine Volodymyr Zelenskyy signed decree No. 43, which put into effect the decision of the NSDC "On the use of personal special
economic
and other restrictive measures (sanctions) "against the People's Deputy of the Verkhovna Rada Taras Kozak from the Opposition Platform - For Life faction (Opposition Platform - For Life) and the TV channels 112 Ukraine, NewsOne and ZIK. The aforementioned media outlets were banned from broadcasting without any court decision, and their licenses were revoked.
In May, the repression in Ukraine reached a new level. The authorities brought charges of "high treason" and a number of other grave crimes to the aforementioned Taras Kozak and the head of the political council of the PLHZ, People's Deputy Viktor Medvedchuk. At the same time, the West pretends that nothing is happening.