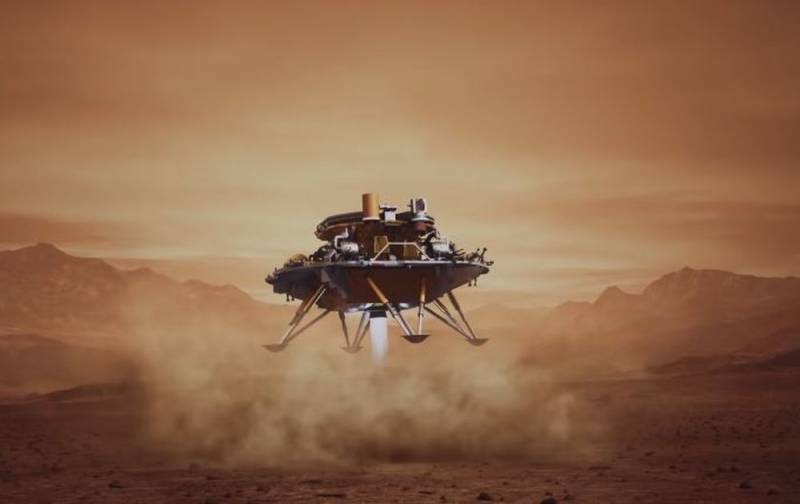 China's ambitious space program is yielding results. On May 15, 2021, the Tianwen 1 spacecraft successfully landed on the surface of Mars. This was reported by the Chinese news agency Xinhua, citing the China National Space Administration (CNSA).
The Tianwen 1 mission to Mars began on July 23, 2020. The automatic interplanetary station consists of an orbital and descent modules, as well as a six-wheeled rover.
After 7 months of flight, in February 2021, the AMS reached Mars, it took several more months to find a suitable landing site. At about 04:00 in the morning, the descent module, with the rover inside, separated from the orbital module and entered the atmosphere of Mars. The landing was carried out autonomously (given the distance), any failure could lead to the failure of the mission.
In China, they noted that landing on Mars is much more difficult than on the Moon. Mars has an atmosphere, so special protection is required to fly through the atmosphere.
It is specified that a parachute with an area of ​​200 square meters was used, which was dropped just before landing. The descent module hovered at 100-meter altitude at zero speed, and then, using the engines, landed on its four support legs.
The rover is slated to remain in the lander for several days for diagnostic tests before rolling down a ramp to explore a region of Mars known as Utopia Plania. The Chinese rover will join its American counterpart who arrived on the red planet in February this year.
China left its mark on Mars for the first time, which is an important step for our country's space exploration
- the Xinhua news agency underlined the new success of the Chinese cosmonautics.