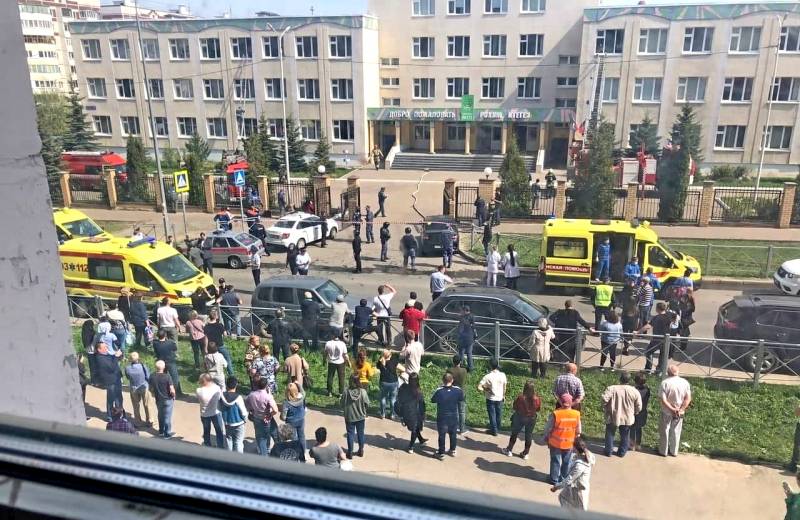 On May 11, 2021, in Kazan (Tatarstan), a group of people attacked gymnasium No. 175. There was information about an explosion in an educational institution and shooting from automatic weapons. Representatives of emergency services were immediately dispatched to the scene of the attack and the evacuation of children began.
According to preliminary data, two people entered the gymnasium - a 17-year-old teenager and a 19-year-old boy. They opened fire on the students and teachers who were there. As a result of the actions of the intruders, 11 people died.
At first, 7 were reported killed (a teacher and six schoolchildren). However, later it became known about four more victims - two became direct victims of terrorists, and two crashed, jumping out of the windows of the third floor.
Law enforcers managed to detain one of the attackers (according to media reports, his name is Ilnaz Galyaviev), another took hostages and held them on the third floor of the building - he was eliminated by the police.
The footage taken by eyewitnesses from neighboring houses and adjacent territories shows how frightened by terrorists schoolchildren jump out of the windows of the gymnasium.
The territory adjacent to the gymnasium is cordoned off by police, 21 ambulance brigades are located nearby. The reasons for the incident are being investigated, security measures have been strengthened in all educational institutions of Kazan. We express our condolences to the families of the victims.
Updated
: According to official figures, 9 people were killed in the attack on the school, 21 were hospitalized. The attack was carried out by one person.