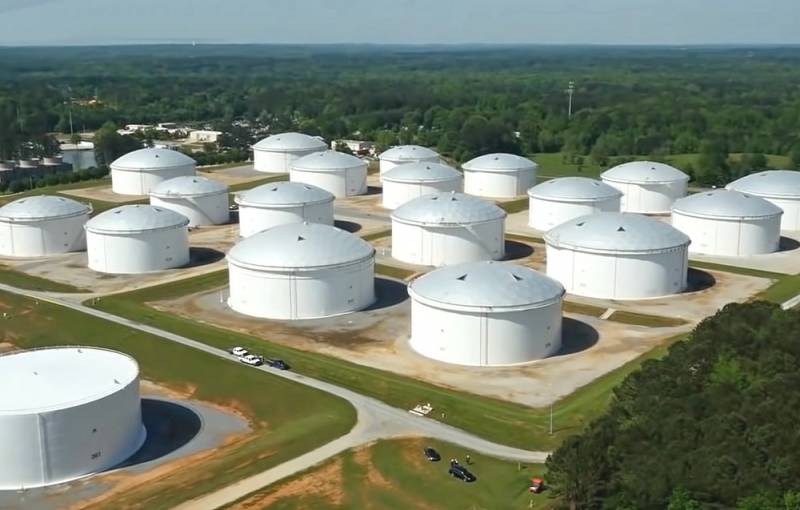 The shutdown caused by hacker interference in the computer systems of one of the largest American product pipelines threatens to result in serious problems that may well reach the size of, if not a national catastrophe, then something close to it. The most unpleasant thing is that long before the first, albeit the most preliminary, official conclusions about the reasons for what happened, the US media had already begun to circulate with might and main the version of "Russian hackers" who allegedly carried out this intervention.
There is nothing surprising here, because thanks to the real hysteria that has been fanned for several years in this country around "interference in elections", "cyber attacks" and other similar actions of the Russian side, it, one might say, "hung in the air." And others, as it were, were not envisaged ... To argue with this statement (as with any other nonsense) is absolutely meaningless, although we will consider below the "arguments" put forward by its supporters. However, a much more important question seems to be who and why actually needed to arrange another show with "Russian hackers". And why did it happen right now?
In the most sore spot
At the moment, the following is known about the events in the United States: cybercriminals entered the network of the operator of the product pipeline Colonial Pipeline, presumably on May 6. Having launched a malicious virus there, the hackers stole at least 100 GB of critical data, blocked the system, and on May 7 demanded a large ransom from the company's owners. Its amount has not yet been announced, however, according to some sources, it is about at least hundreds of millions of dollars. It must be said that the amount of losses from the downtime of the blocked pipe, through which not only gasoline and diesel fuel, but also fuel oil for heating, aviation fuel and other oil products were transported, perhaps, may well cost the company a much larger amount. Colonial Pipeline, which has a length of almost 9 thousand kilometers, runs from Texas in the south to New Jersey in the north. Throughout its length, it provides at least 45% of the various fuel needs of the entire US East Coast.
Moreover, in one and a half dozen of its tank farms, a strategic fuel reserve is stored for a month and a half - about 4 and a half million cubic meters. The annual volume of pumped through the pipeline is estimated at 110 million tons, daily - at 2 million barrels. According to analysts from the United States, its failure will lead to an acute shortage of fuel not only in the East, but in a larger territory of the country. At the same time, we are talking not only about road transport - airports in Atlanta and Charlotte, which are large logistics hubs, will simply "stand up", since they will have nothing to refuel their planes. We can say with good reason that those who carried out this cyberattack hit the Americans where they hurt the most.
In any case, in the United States, it has already been declared "the largest refinery infrastructure in the country in history" and the largest attack on such a structure since 2019, when the largest refinery on the planet in Saudi Arabia was hit by drones. The United States government on Sunday imposed a state of emergency in 18 states at risk, first of all, lifting all restrictions on the transportation of petroleum products by any means of transport, including automobiles. Washington declares its readiness to "do everything possible" to prevent a "fuel hunger" in the country. The White House has created a special interdepartmental working group, which is still working out scenarios of actions for all cases of possible development of the situation, up to the most negative ones. At the time of this writing, Colonial Pipeline has managed to launch several small "branches" of the pipeline going from terminals to delivery points, but its 4 main trunk lines remain inoperative. The operator company declares that it will be possible to speak about the full restoration of activity only when its safety is guaranteed for 100%. Naturally, as long as the system remains under the control of hackers, this is out of the question.
Meanwhile, amid so disturbing
News
prices for "black gold" began to show growth not even on an all-American, but on a global scale. On the evening of May 10, the cost of June futures on various exchanges rose, on average, by half a percent. However, according to stock market analysts, this process will gain momentum every day, and in a matter of days oil, and so the more expensive can soar in price in a significantly greater proportion. Most interestingly, some have already rushed to call this trend ... the best proof that Russia is behind the attack!
And again these Russians ...
Who benefits from the rise in oil prices? Well, of course, Moscow! This means that this is where the trail of the cyberattack is going! It is this level of "evidence" that is already in full swing in the American media today. Moreover, we are not talking about the "yellow press", but about rather authoritative, leading publications and TV channels. One of the first, if not the very first, "Russian version" (and on an uncontested basis) was voiced on CNN and NBC News, it was enthusiastically picked up by Bloomberg, as well as The Washington Post - and, as they say, "the province went to write ..." For some unknown reason, the hacker attack is already attributed to the DarkSide group, which was immediately declared "Russian".
Moreover, various "experts" are sophisticated in their discernment, talking about why such a hack is certainly not the most common extortion, of which a great many cybercriminals commit in the world and almost every day, but "a special operation commissioned by the Kremlin." Like, "such actions require too long, careful and expensive preparation costing hundreds of thousands of dollars" to undertake them exclusively with selfish whole. " So after all, the ransom will most likely require not a hundred or two dollars! The most interesting thing is that no one is able to voice intelligible answers about Russia's motives for such a defiant trick - unless, of course, we consider absolutely stupid references to the growth of oil prices as such. No, something sounds, but all this "argumentation" looks like sheer absurdity. "Demonstration of force", "response to the imposition of sanctions", "destabilization of the situation in the United States" ... There is not even a subject for dispute here. What is really worth talking about seriously is about potential stakeholders in the United States itself and their perceived motives.
Most likely, the whole point here is in a possible meeting of the leaders of the two countries at the highest level, talks about which have been going on lately both in Washington and in Moscow. Not so long ago, White House spokeswoman Jen Psaki said that direct dialogue between Joe Biden and Vladimir Putin could well be "a good step forward in US-Russian relations and help to de-escalate tensions between states." Doubtful enough, but acceptable. It is very likely that very powerful forces in the US itself categorically do not want anything like this. In the end, the local politicum is far from homogeneous; it contains both more or less sane personalities and figures who cannot be called anything other than "hawks". In their opinion, it is impossible in any case to admit even a hypothetical possibility that the presidents will agree on at least some points. Is there a better reason to disrupt the summit than another "Russian cyber attack"?
The option is simply ideal - the real damage is obvious, and it will be incurred not only by the state, but also by ordinary citizens, which in the best way will prepare the necessary "public opinion". There is no need to prove anything - the notorious "highlighted like" is enough for the eyes, since "Kremlin hackers" have already buzzed everyone in the United States, excuse me, all ears. And Biden himself, as much as he would not want something else, simply will have no choice but to impose new sanctions against Moscow, and even accompanied by the next sharp attacks on it. This is the end of the fairy tale ... There will be no meeting, but there will be a new aggravation of relations, accompanied by those things on which some people can earn a lot of very specific "bonuses" - from the creation of new structures in the army and special services with high command posts, to multibillion-dollar military orders.
However, it is quite possible that the sabotage of the Colonial Pipeline is aimed not at completely blocking the very possibility of negotiations between the leaders of the United States and Russia, but at "strengthening the position" of Mr. Biden during such negotiations. Indeed, if we assume that the presidential summit on the American side is aimed at reaching some agreements that are very important for Washington, then one can come to them in different ways. You can bargain, make mutual concessions, make compromises and, in the end, conclude a mutually beneficial deal. And you can try to "squeeze out" your own, not offer, but demand, speaking in the language of ultimatums and threats. What way of doing business is more common and more familiar to the United States? The answer is obvious. Moreover, the actions undertaken recently by the "world hegemon" are completely contrary to the assumptions about his suddenly awakened peacefulness and readiness to conduct at least a conversation with someone on an equal footing. That there is only one intention to station their own troops on the southern borders of Russia - in the former Soviet republics of Central Asia, ostensibly to "fight the Taliban." Previously, they tried to "push" on us only from the West, but now, it seems, they decided to "impose" on us completely. It is in this logic and sequence of actions that the device of large-scale problems at a critical infrastructure facility in the United States with the aim of further using such an incident as an excuse for blackmail and threats, and even real destructive actions against Russia, fits in the most remarkable way.
Russia does not need an attack on the Colonial Pipeline at all - oil prices have been steadily growing lately without it. And in case of emergency, we can demonstrate our strength and determination in much more convincing and much less sophisticated ways. Everything that happens can only be beneficial to those forces that seek to disrupt the normalization of relations between Moscow and Washington. Moreover, at any cost.