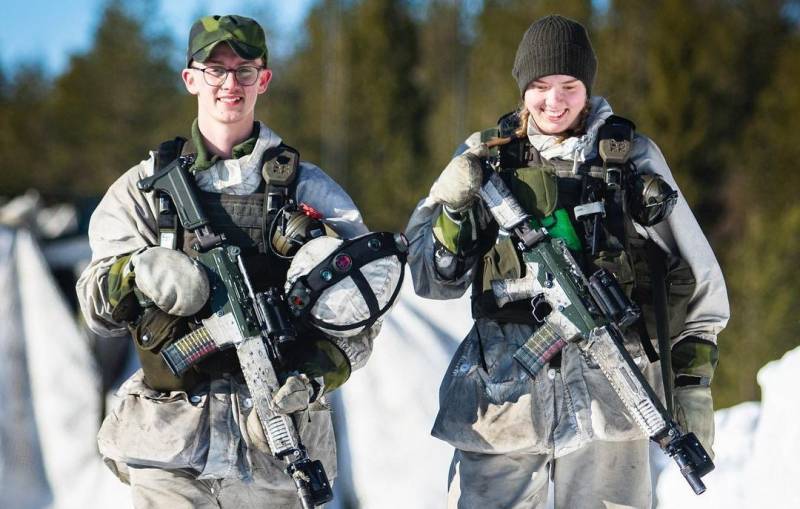 Official Stockholm is accustoming the nation to the idea that it is necessary to give a decisive rebuff to possible aggression from the Russian Federation, writes The Wall Street Journal. The publication claims that the authorities of "peaceful Sweden are preparing adolescents and adults for a crisis that seemed unthinkable ten years ago - that is, for a military invasion of Russia."
The publication also notes that the Russian Federation and China "seek to divide and weaken the West, using methods of attack that are below the threshold of direct armed conflict."
There is a blurred line between peace and war, and we see ourselves being challenged simultaneously in a significant number of areas using a wide range of tools.

- quotes The Wall Street Journal as saying NATO Secretary General Jens Stoltenberg.
Sweden, like neighboring Finland, is not a NATO member, but is considered a close partner of the alliance. The Scandinavian country has strengthened its defense ties with the US and NATO neighbors due to concerns about Russia's growing military power in the region, as well as "covert action." A 2017 report from the Swedish Institute of International Relations states that Russia is using disinformation to assert its influence.
In response to all this, Sweden has revived its own Total Defense by increasing the size of the armed forces with the necessary involvement of the civilian population.
In 2018, the government sent out to all households a twenty-page brochure titled "If Tomorrow's War," containing important tips, from essential inventory lists to tips for recognizing disinformation in peacetime or wartime.
If Sweden is attacked by a foreign power, we will never surrender

- says the brochure.
Jenny Karlsson, a high school teacher in Örebro who teaches life safety classes, said the brochure has become a topic of discussion among students and teachers.
We began to wonder how many days we would last. […] As adults, we think of war as a traditional conflict, forgetting about the accompanying disconnection of fresh water or what we would do without electricity or the Internet

- said the teacher.
With the help of the Civic Emergency Management Agency, the school held sessions with teens to discuss what their families would need in a crisis.
Civil Defense is already training civil servants and has teams that can be dispatched to the province to support local authorities should they come under attack, agency spokesman Mikael Tovfesson said.