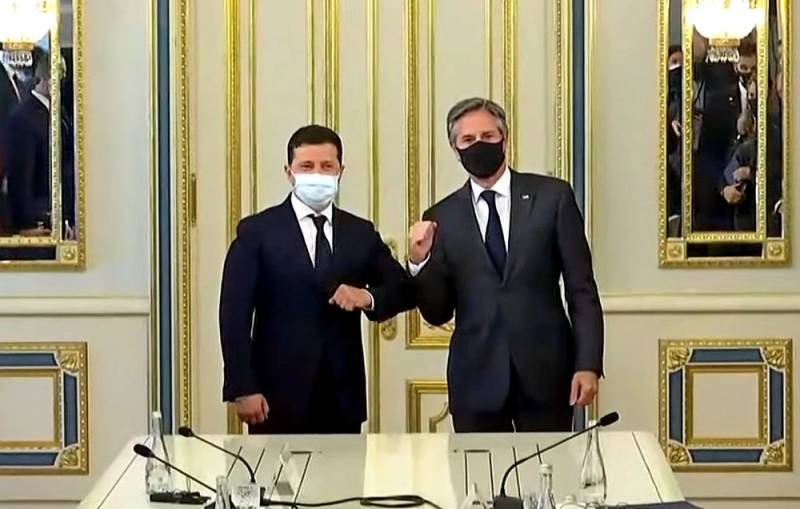 It so happens that an event on which huge expectations were placed does not justify them. Moreover, it brings something completely opposite to what those who dreamed of it expected. Apparently, the visit to the capital of Ukraine by US Secretary of State Anthony Blinken and his deputy Victoria Nuland turned into just such a discouraging situation. And how they waited for him, how they prepared, what plans they made ...
Let's try to figure out what exactly this voyage of the heads of the State Department marks both for the "non-foreign" and, which is much more important, for the Ukrainian-Russian relations.
"Carry out reforms - but don't get involved in NATO!"
Approximately in this vein, according to informed sources, Victoria Nuland spoke during her meeting with the leadership of the Ukrainian parliament and leaders of the local factions. According to her, Kiev "should not pedalize the topic of joining the North Atlantic Alliance," since this "signboard" "will not give it anything." Perhaps, it was no longer possible to express more openly the West's complete absence of even the slightest intentions to directly participate in the process of "defending the independence and territorial integrity" of Ukraine. Whether she will stay formally in NATO or outside this bloc - no one is going to fight for her with the Russians. Ay-yay-yay, Mrs. Nuland, was that what the "patriots" to whom you so zealously handed out cookies on the flaming "Maidan" in 2014 was expected of you ?! This, truly, is called: "toss and toss".
However, the Americans still have no intention of abandoning their faithful Ukrainian natives. Not all the juices have been pumped out of the country yet, and no one in Washington is going to stop using it as an irritant for Moscow. No wonder, having barely set foot on Ukrainian soil, Blinken said that he had come "to discuss Russian aggression." This topic is by no means removed from the agenda. However, they make it clear to Kiev that there will be no entry into the Alliance or even the implementation of the plan of some local leaders to become official US military allies "outside NATO". Calmed down and forgot. Let's talk - we'll talk, but about the endless infusions of money and the supply of weapons, it's time, as they say, to let go. The United States, after all, having invested something in the ugly and wretched state aid that exists in Ukraine today, intends to somehow "recapture" its own, and not only by using it in its own anti-Russian geopolitical combinations.
It is not for nothing that the head of the State Department spent a fraction of his precious time on the "headwash" that he arranged for both the Ukrainian president and the head of government. The United States is extremely dissatisfied with the personnel "liberties" that Zelensky and the company have recently begun to allow themselves, pushing their own protégés out of key positions. For example, the head of NJSC Naftogaz, Andrei Kobolev, and a number of officials of fairly high ranks, who were universally ranked among the "American lobby" in Kiev. Also, overseas "partners" strive to establish full and final control over the judicial system of Ukraine - as they say, just in case and in order to avoid. That is why both Blinken and Nuland, in their communication with the indigenous natives, who were playing for independence, made a very strong emphasis on the urgent need to "carry out reforms" and "fight corruption." That is - full and absolutely unconditional adherence to all instructions, commands and "wishes" coming from the United States.
The topic of oligarchs, which the Secretary of State publicly called "the second threat to Ukrainian independence after Russia's aggression," sounded special. It is clear that, first of all, we are talking about Igor Kolomoisky, who is close to Vladimir Zelensky, in the United States, to put it mildly, not welcome. The comedian president runs the risk of finding himself on a hefty "twine", torn between the need to please the desires of the overseas gentlemen and his own obligations to Kolomoisky, who "raised" him. The conflict with one or the other side does not promise him anything good, and it is unlikely that he will be able to get out according to the well-known Ukrainian scheme: "both ours and yours". However, these are already the problems of the showman who is clearly out of place, and for us those moments of Blinken's visit that may affect relations between Kiev and Moscow are much more interesting.
"Nothing will happen, but you hold on!"
Anthony Blinken's words sounded rather ambiguous and unpleasant for the Ukrainian side, as he said during a press conference following his conversation with Volodymyr Zelensky: "We know that Russia has withdrawn from your borders only a small part of its troops and at any time can start again. aggressive actions ". We know - but we are not doing anything ... What is characteristic, the statement of the Secretary of State almost exactly repeats the publication that appeared on the eve of his arrival in Kiev in The New York Times. The coincidence, apparently, is clearly not accidental. The information that in the immediate vicinity of the Ukrainian borders "a Russian military group of up to 80 thousand people continues to remain" was provided to the publication by high-ranking officials from the Pentagon, and not anonymous, but quite specific. For example, General Mike Repass, who oversees NATO's special operations in Ukraine. Why, then, Washington, which at first threw thunder and lightning over the redeployment of our troops, now looks at this with complete indifference? This is where the fun begins.
According to the profound conviction of the authors of the article in The New York Times, perhaps the main "intention of Putin" when carrying out the maneuvers that scared Kiev to hiccups was to show the "smart people" there that the West in its "support" will in no way go further "Expressions of deep concern", maximum - the introduction of new, and even then not too powerful sanctions. And in this, according to American journalists, the leader of our state is quite successful. The behavior of Blinken and Nuland in Kiev is a complete confirmation of their opinion - after their words, the question of Ukraine's entry into NATO can be considered completely closed. And precisely because such a step will cause the most negative and decisive reaction from Moscow.
The authors of The New York Times believe that from now on, Washington intends to try to balance on a very thin line - it will support and equip the "non-foreign" line just enough that this, according to Pentagon strategists, would be enough to "repel direct Russian aggression" seen in this department to many. However, the United States will never increase the volume of military aid to such an extent that it could "provoke the Kremlin to retaliate" aimed at stopping the threat that Ukraine would then begin to turn into. Apparently, it is categorically not included in their plans to engage in hostilities with our country in the Ukrainian theater. They are equally not interested in demonstrating to the whole world what American assurances of "unshakable support" are really worth, ending where the case begins to smell like real victims and losses. In this situation, Kiev can rely neither on the Patriot air defense system, nor on the F-35 fighters, or even on the decommissioned F-15. Inflatable boats and patrol boats are the maximum for today.
Some experts have already rushed to link the trip of the head of the State Department to Kiev, as well as the information "signals" that preceded it, as actions that are most directly related to the proposed meeting between Joe Biden and Vladimir Putin. They say, in this way, Washington really seeks to relieve tension in the "Ukrainian direction" and demonstrate to Moscow its own unwillingness to provoke further escalation in it. This option should not be discarded from the doorway. As they say, wait and see. In any case, there were no particularly aggressive statements from Blinken's lips in Kiev (although many there were expecting them very much from him), and this, of course, is a good sign.
However, there is absolutely no need to relax on this matter - especially in light of the recent words of the official representative of the same US State Department, Ned Price, that "Russia must end the conflict in Donbass and the illegal occupation of Crimea." And I remember that Anthony Blinken himself just the other day was broadcasting about "the need to put pressure on Moscow and bring it to justice" for something there. This "song", alas, for a long time ... And it is unlikely that something very much will significantly change the summit of the heads of the two states - even if it really takes place. The contradictions between the United States and Russia are too deep and systemic to be "removed" by one summit meeting or even several. On the other hand, any relaxation of tension is already a blessing.
As for Ukraine itself, the visit of distinguished guests from across the ocean to its capital should be considered a failure rather than a success for Kiev. No, of course, especially alternatively gifted individuals, like the local Foreign Minister Dmitry Kuleba, who has already rushed to boast of a photo with Blinken on social networks and, with some fear, call him their "friend", rejoice like the owners of the notorious written bag ... However, the fact that Volodymyr Zelenskyy at the final press conference did not make any "spiritually uplifting" statements - for example, regarding the fact that "American friends" are about to overwhelm "non-cash" with millions of doses of coronavirus vaccine or give her a couple of new "toys" from their own arsenals, testifies very much. Even to Zelensky's humiliated request that Joe Biden deign to visit Ukraine on the "great holiday" of the 30th anniversary of its "non-availability", Blinken responded extremely coldly: "The president will come when he sees fit ..." That is, in this case, never.
It is very likely that "support" of Ukraine from the United States is beginning to shift towards tight control, and in literally all spheres. From now on, official Kiev will listen to their representatives not just promises, but only demands for the fulfillment of previously assumed obligations and new instructions that do not allow discussion. This time there will be no cookies - you will have to be content with a donut hole ...