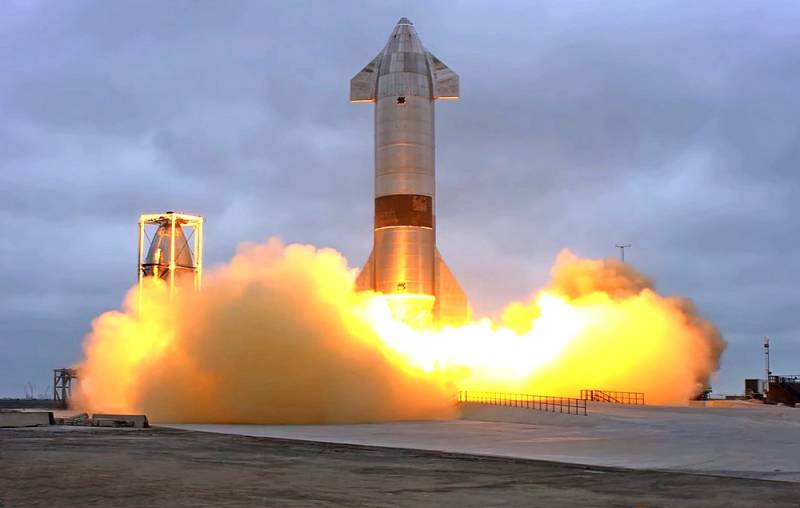 After a series of unsuccessful attempts, SpaceX still managed to conduct high-altitude tests of the prototype of the future "Martian" spacecraft Starship. The fifth "jump" of the vehicle ended with a successful landing on the launch pad.
During the test flight, the SN15 prototype climbed to an altitude of about 10 km, made the planned maneuver and performed a smooth landing on the launch pad. Later, the head of SpaceX Elon Musk tweeted: "Nominal landing of the Starship", indicating that the current tests have passed without incident.
Recall that versions of the promising ship SN8, SN9, SN10 and SN11 were destroyed during previous test flights. The first two vehicles crashed on impact on the ground during landing, SN10 exploded a few minutes after a successful landing, and SN11 went out of order right in flight, at the time of the maneuver.
It is worth noting that after the successful landing of SN15, a low-intensity fire broke out at the base of the device, which went out after a few minutes. In general, the tests were successful, which means that the company's engineers made conclusions and were able to eliminate the problems that led to the explosions of the previous prototypes.
The company's website indicates that the current version of the Starship is different from its predecessors. In particular, the SN15 rocket received an improved design, as well as updated avionics and software. In addition, the engineers redesigned the fuel line and equipped the prototype with Raptor engines with a new design and configuration.
In the near future, the company will continue to develop and test its "Martian" spacecraft. According to the ambitious statements of Elon Musk, the Starship & SuperHeavy transport system may be ready by 2023.