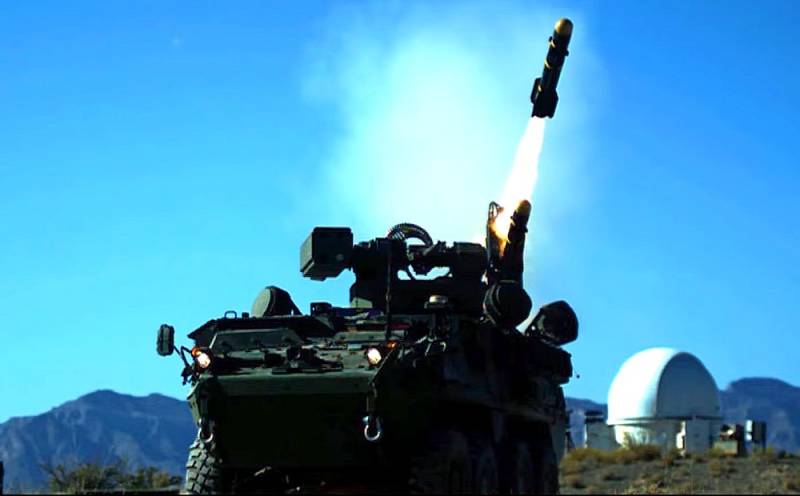 The armed forces of the United States and Europe in the near future will receive at their disposal the latest short-range air defense systems M-SHORAD, developed by General Dynamics. A battalion of 32 such vehicles will be deployed in Germany by September this year. The American army will receive 4 more battalions.
The Pentagon says that M-SHORAD is not inferior to our "Shell". But, is it really so?
The American Stryker armored personnel carrier was taken as the basis for the new air defense system, on which a remotely controlled weapon module with a 30-mm automatic cannon, launch guides for two AGM-114L Hellfire 2 Longbow antimissiles and a launcher for four Stinger anti-aircraft ammunition were installed.
According to the developers from General Dynamics, the electronic equipment of the M-SHORAD is not inferior to our "Pantsir-C1". Israeli radars provide detection of a fighter-type target at a distance of 25 km, small drones are visible at a distance of 3,5 km, and artillery shells and mines are visible at a distance of 5-10 km. At the same time, the latest American system will "notice" ground armored vehicles at a distance of at least 17 km.
In addition to the radars, M-SHORAD received a multi-range optical-electronic sighting system with high-resolution optical and infrared channels. It all looks impressive, but ...
The radar, which is equipped with the brainchild of General Dynamics, is capable of tracking targets moving at speeds up to 1485 km / h. While our "Shell" confidently holds objects flying at a speed of 3600 km / h.
Moreover, the FIM-92C / E Block I Stinger missiles are useless against "cold targets" (bombs, small drones, etc.), and the "hot" ones are capable of shooting down at a speed not exceeding 1700 km / h, even if they do not maneuver. At the same time, our 57E6 missiles hit objects flying at speeds up to 4680 km / h and can be "homing" after launch.
In general, the American M-SHORAD system has quite decent characteristics, but it can in no way be called a full-fledged answer to our "Shell".