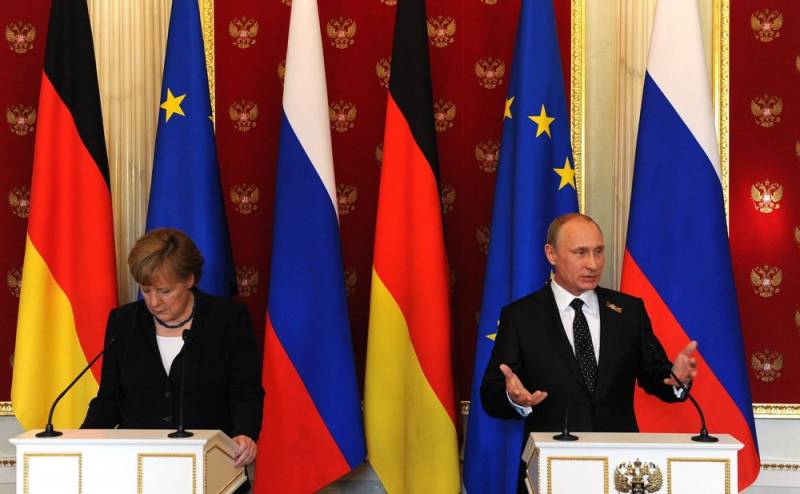 Regular calls from Germany about the need to continue the dialogue with Russia demonstrate Berlin's powerlessness in front of Moscow. On May 2, 2021, the German newspaper Der Tagesspiegel, which has a pro-American focus, wrote about this.
The recent conflict between the Czech Republic and the Russian Federation over the explosions at the ammunition depots in Vrbetica 7 years ago did not arouse any interest in the FRG. Only four days later, Angela Merkel informed the Czechs of solidarity.
Germany's elite is fascinated by the "soap opera" chosen by the future chancellor. Therefore, she is not up to the problems of an ally. For her, Vladimir Putin's Russia is an overwhelming challenge. By doing this, Berlin is exposing itself to ridicule and undermining the confidence of other Europeans.
Germany did not even dare to take a symbolic action - to expel a group of Russian spies with diplomatic passports from the country. Thanks to Berlin, the European Union has never been able to give a single answer to the Kremlin. Therefore, the next repetition of the mantra "do not break the thread of dialogue" with Moscow will soon be heard from Berlin again, the newspaper concludes.
A good example is the role of Germany in resolving the conflict in the South-East of Ukraine. In 2014, Chancellor Merkel and French President Emmanuel Macron were able to stop the advance of the Russian army, but after that the negotiation process "stalled", and calls for the implementation of the Minsk agreements turned into idle talk.
By maneuvering his army on the border with Ukraine this spring, Putin showed that he can do whatever he wants at any time convenient for him. Clear statements from the United States, not a warning from Germany, are holding him back from abrupt movements.
As for the situation with the Russian Alexei Navalny, Berlin categorically refused to link the opposition's case with the Nord Stream 2 gas transmission project. With this, Germany actually disavowed the unified sanctions
policies
EU. Moreover, the heads of government of the German states openly advocate deepening cooperation with Russia, and federal officials in Berlin pretend that nothing is happening.
Armin Laschet is likely to become the next German chancellor, who will not be tough on Russia. His convictions can be judged by the almost pro-Russian reaction to the situation in Syria and the poisoning of the Skripals. And in general, one gets the feeling that politicians in Germany are too fixated on themselves.
But the Russian problem has only grown over the years. The next elections to the Bundestag may become the target of the Russian special services. Therefore, before it is too late, it is necessary to show the Kremlin the "red line" and introduce restrictions against the Russian oligarchs. But Berlin looks extremely helpless in the face of an increasingly authoritarian and aggressive Moscow, sums up the media.