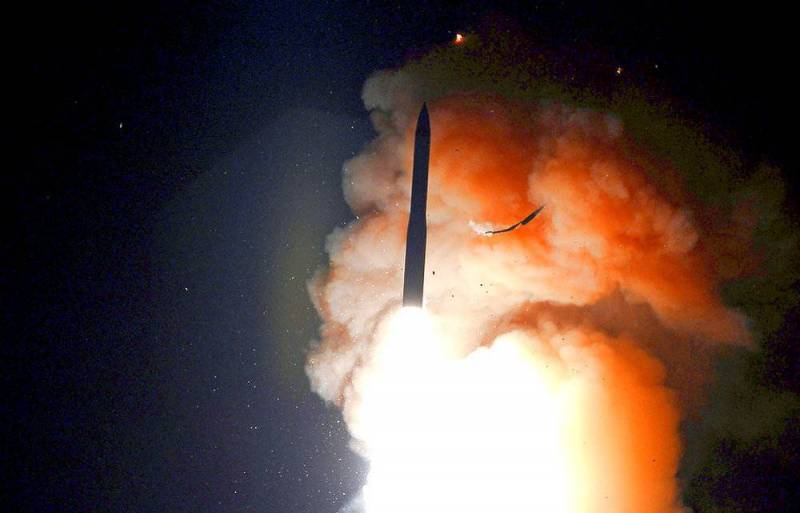 In the coming days, the US Department of Defense wants to carry out a test launch of the LGM-30G Minuteman III ICBM ("Minuteman-3") to test the combat readiness of its nuclear missile arsenal. These are the only silo-based ICBMs (about 400 units) currently in service with the United States.
The Interfax-Ukraine agency informed the public about the upcoming launch of the American ICBM, referring to the published international notice of the closure of a certain area for civil aviation over the Pacific Ocean (NOTAM).
It is specified that the tests will take place on May 5-6, 2021. Minuteman 3 will be launched from the Vandenberg military airbase in California (USA). The ICBM should fly about 7 thousand km and hit the target at the firing range located on the Kwajalein Atoll (Marshall Islands). This is the former Menshikov Atoll in Micronesia, located in the central Pacific Ocean in the Ralik chain.
We remind you that in the period from 1946 to 1958, the United States conducted 67 nuclear tests in the Ralik chain (on the Bikini and Eniwetok atolls) of the Marshall Islands. In 1947, the Marshall Islands became the US Mandate Territory. Since 1986, they have been in "free association" with the United States. According to experts from Columbia University (USA), in 2019, the plutonium content in some parts of the Marshall Islands was 1000 times higher than in samples taken near the Chernobyl nuclear power plant.
Note that "Minuteman-3" have a range of up to 13 thousand km. They were put into service back in 1970 and are part of the existing American nuclear triad. The last launch of the indicated ICBM with an unarmed warhead was made on February 23 this year. It was reported that "Minuteman-3", having taken off from the same base and having flown 6,76 thousand km, hit a given target at a range near the Kwajalein atoll. On average, the United States carries out 4 launches per year.
The last unsuccessful launch of the Minuteman-3 was in July 2018. Each combatant ICBM is equipped with one 300-475 kiloton warhead. The Pentagon plans to completely remove the Minuteman 2036 from service by 3, replacing it with a new ICBM in development.