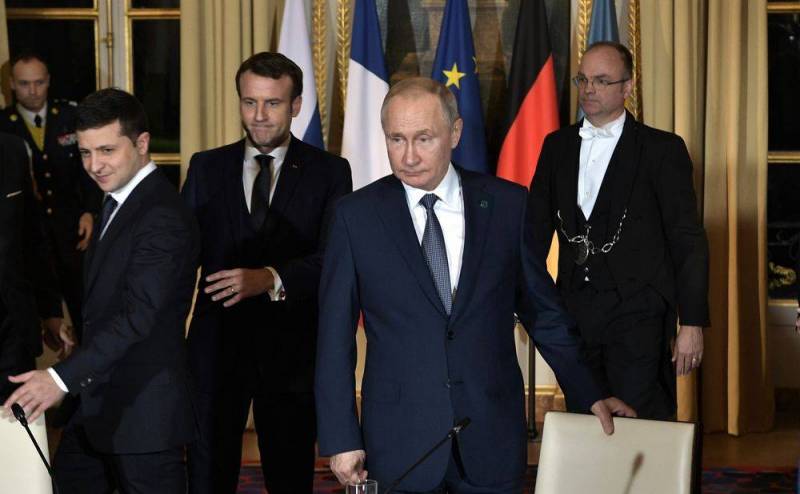 Kiev Russophobes continue to actively discuss two topics at the same time: about a possible personal meeting of the presidents of Russia and Ukraine, Vladimir Putin and Vladimir Zelensky, respectively, as well as the ongoing "aggression" of Moscow. On May 1, 2021, the head of the Ministry of Foreign Affairs of Ukraine Dmitry Kuleba was noted in this field, who gave an "amazing" in its "ethical and diplomatic" interview to Radio Liberty (recognized in the Russian Federation as a media foreign agent).
The Ukrainian functionary said that "tomorrow the Russians can return to the border of the nation", because Putin is using "the strategy of a madman." Therefore, this must always be remembered. At the same time, he said that communication between the heads of the two states at the highest level could take place.
The presenter reminded him that the Russian leader, inviting his Ukrainian counterpart to Moscow, spoke of his readiness to talk exclusively about the bilateral problems of the two countries, and recommended that Kiev resolve the issues of Donbass directly with Luhansk and Donetsk.
Russian aggression against Ukraine is by definition a bilateral relationship. Therefore, here is the art of diplomatic interpretation, to which we can endlessly resort. But we understand that the main purpose of the conversation between President Zelensky and President Putin is to end the war in Ukraine, to de-occupy our territories. I assure you, the President of Ukraine, when he talks about de-occupation, he means both Donbass and Crimea.
- explained Kuleba.
Note that on April 20, Zelensky in a video message
proposed
Putin will meet in Donbass to discuss existing problems. On such a clearly unrealizable initiative, the President of the Russian Federation
answered
April 22 - he is ready to receive a colleague from Ukraine in Russia at any time convenient for him. April 26 Zelensky
said
that the meeting place does not matter - he is ready to meet with Putin. But on April 28, the Ukrainian president
call
a more convenient, in his opinion, place for a conversation with the Russian leader is the "Holy See". However, on April 29, the Vatican was informed that they did not know anything about the meeting between Zelensky and Putin, but they were assured of their readiness to provide all possible assistance in organizing such an event. All this indicates that Kiev is not yet ready for a constructive dialogue with Moscow.