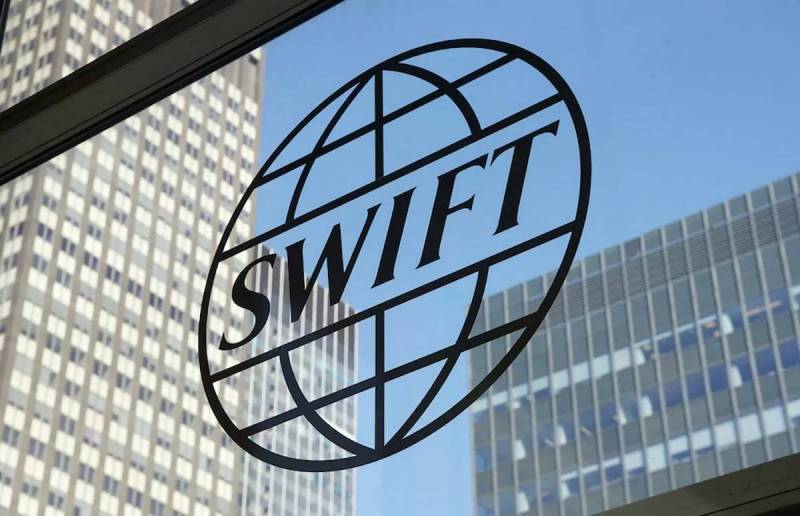 Frank military preparations near the border of Ukraine, the landing of opposition leader Alexei Navalny and the defeat of his headquarters, which were judicially recognized as extremist organizations, and the "explosion from the past", in which the Czech special services blamed our famous "GRU agents Petrov and Boshirov" once again propose to disconnect Russia from the SWIFT system, as well as introduce a number of other sanctions. This is not the first time this threat has been voiced, but this time a corresponding resolution has already been adopted by an overwhelming majority of the MEPs. How realistic is its implementation, and is there life after SWIFT?
SWIFT is an international interbank system for transferring information and making payments. Its members are over 11 thousand organizations around the world, more than 30 million transactions are carried out daily. Despite the fact that this is a private cooperative registered in Belgium, after September 11, 2001, the US Treasury Department, the CIA and the FBI received full access to all data on transactions carried out. There is also a precedent for disconnecting the Islamic Republic of Iran from SWIFT under pressure from Washington, so this "horror story" has been actively scaring the Kremlin since 2014, but it has not been introduced. Why is that?
Let's just say that the SWIFT issue is a fertile topic for HYIP from both the Western and Russian sides. The resolutions of the European Parliament are not binding on the European Commission, but the deputies were able to publicize loudly and express their anti-Russian position. The final decisions will be made by completely different people and for different reasons, which we will discuss in detail later. Moscow, too, did not remain in debt. Senator Vladimir Dzhabarov, deputy head of the Federation Council committee on international affairs, said:
Very good, let them turn it off, we have a backup for this system, as the head of Russia has already stated.
The SWIFT backup is its domestic counterpart, the Financial Messaging System (SPFS), the creation of which the Russian leadership was concerned about even after the first threats from the West expressed in 2014. Today, both our banks and a number of foreign banks are connected to it, mainly from the CIS countries, but there are also Turkish, Japanese, Chinese and French banks among them. Thus, there will be no collapse of the financial system inside Russia and in the post-Soviet space. Another thing is that problems may arise for large companies selling raw materials for export for foreign currency. But we will come back to this question later.
The well-known Russian oligarch Oleg Deripaska proposed introducing a "digital ruble" for settlements in case the country is disconnected from SWIFT. However, this idea has caused some skepticism in the expert community. "Digit" is only a form of transferring financial information, but foreign counterparties must be ready to accept and convert such a ruble to participate in international settlements. There is an even more exotic idea of ​​switching to cryptocurrencies in settlements. Here you can recall Venezuela's attempt to introduce its own "el-petro", providing cryptocurrency with oil, but the topic has not yet gone due to lack of demand. Now, sanctioned Iran is trying to do something similar using Peyman cryptocurrency backed by gold to pay for imports. But we should not forget that just a few days ago, the founder of the Thodex cryptocurrency exchange, Turkish businessman Faruk Fatih Ozer, disappeared, taking with him 2 billion dollars belonging to investors.
If we recall another Iranian experience, then since 2015, for five years, Tehran has made a natural exchange with Moscow. Russia took oil and gas, and in return provided the Islamic Republic with equipment and grain.
Finally, it will be possible to more actively use the Chinese analogue of SWIFT called CIPS (China International Payments System). This system, like the SPFS, is so far mainly designed for the domestic market of the PRC, but a number of Russian banks are already connected to it, which will simplify settlements between Moscow and Beijing. In general, there are options, from quite realistic to frankly "hype".
The question is completely different. Please note that MEPs are scaring Russia by disconnecting from SWIFT, but not a word is said about the ban on participation in international settlements, and these are completely different things. SWIFT is not about transferring money from one account to another, but rather a system for transmitting financial messages that all its participants must trust. If our country is disconnected from the ability to carry out them in an automatic mode, no one will prevent the counterparty banks from communicating with each other in a different mode, but at least by phone or fax. Naturally, this will complicate everything, slow it down and lead to an increase in costs, therefore it is not at all interesting for Western bankers themselves.
The key question is what role Russia plays today in the world
the economy
... Yes, we have a very one-sided and vulnerable raw material export model, but our oil, gas, aluminum, titanium, nickel and palladium are still needed by both Europeans and Americans, and the EU and the US must pay for them in foreign currency. If Washington had wished to deliver a really powerful blow to Moscow, it would have banned dollar payments by imposing sanctions on banks wishing to have dollar settlement accounts with Russian financial institutions. That would be a blow so a blow. Exporters of oil and gas will then not be able to receive foreign exchange earnings, the foreign exchange market will not be able to settle in dollars, the Central Bank will not be able to carry out foreign exchange interventions.
Needless to say, such sanctions will be double-edged? For this reason, Western
policy
they prefer to do with half-measures, imitating an uncompromising struggle with Russia in a safe format for themselves. One should start to be afraid only when the EU and the US are really, and not in words, ready to refuse to use Russian resources.