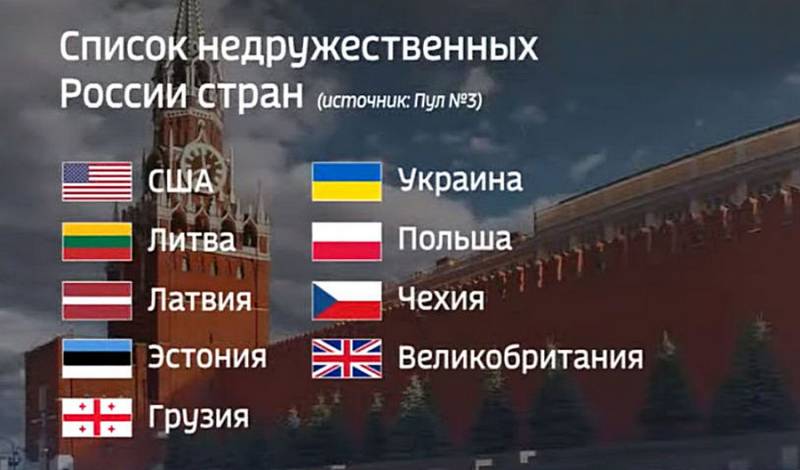 Visitors to the website of the popular Finnish daily newspaper Iltalehti responded to
news
that Russia will announce a list of "unfriendly states" to which a number of restrictions will subsequently be applied.
Finnish comments (some of 589 responses are presented):
Nobody threatens Russia. After all, there is nothing but poverty. […] Oil prices are also about to fall. [...] There will be no more USSR. The world has changed. There is no turning back [...]

- wrote Jourma_Tourunen.
Hehe. Russia found only 9 unfriendly states. I bet more than half of the countries in the world have Russia on their list of enemies. Unless, of course, someone else has such a list.

- says KarriKivi.
What a surprise, all these are countries that got rid of the yoke of the Soviet Union and Russia, and then began to look for patronage in other places. From experience, these countries rely on NATO membership, with the exception of Georgia!

- issued by the user Jorma_Lerssi.
Can any power fall into childhood that much? Only babies in the sandbox come to mind. If you are not playing with me, then you are not my friend. After all, Russians constantly accuse us of all sorts of things that they think threaten them.

- said Pohjanmaalta.
Finns have been afraid of Russia for over a thousand years! And Russia still wants to dominate and does not want equality with its neighbors. She wants some kind of special relationship, but the question is - why on earth? Russia has about 140 million inhabitants and nuclear weapons. Europe - about 550 million inhabitants and its own atomic weapons. USA - about 330 million citizens and its own nuclear arsenal. By joining NATO, Finland will enter an alliance with a population of 880 million versus 140 million in Russia. Russia values ​​only strength and conducts the appropriate
policies
... Why shouldn't Finland do the same? By joining NATO, we will receive security guarantees and about 875 million allies to defend Finland! Before that, the power of Russia will fade, although the Finnish left does not need this, because they long for communist Finland. Now you need to reject the very fear, which is humiliating for the Finns.
- Kalevi10 is indignant.
Perhaps Russia should sometimes wonder why all these former allies treat it this way.

- noticed REL.
Finland is not on this list and never will be until all these NATO fans start making a fuss about joining the alliance. Peaceful country does not need military alliances

- reasoned Seppo_Leskinen_96065.
And in the lists of all other states of the world there is only one unfriendly country

- J5W responded.