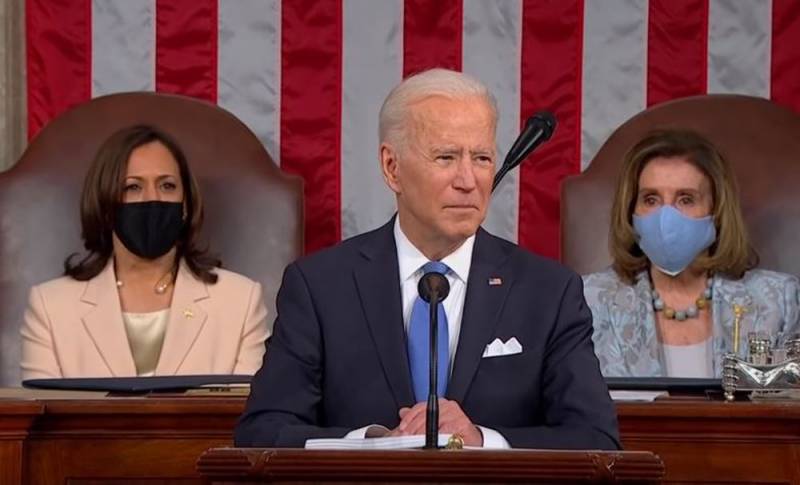 On April 28, 2021, US President Joe Biden delivered his annual message to both houses of Congress. The full text of the speech of the head of the American state to parliament is published on the website of the White House.
It should be noted that Biden's words, said during his speech about Russia and China, cause a certain ambiguity and contradiction. The American leader said that Washington does not seek to increase tensions in relations with Moscow and Beijing, while he announced his readiness for escalation.
As for Russia, I have made it clear to President Vladimir Putin that while we are not seeking escalation, their actions have consequences.
He explained.
Biden clarified that Washington is ready to cooperate with Moscow when it is dictated by the interests of both states. As an example, he cited the extension in February of this year of the START III treaty for the next five years. He also mentioned the cooperation of the United States with the Russian Federation "over the solution of the climate crisis."
As for the relations between the United States and China, the Americans, in words, do not want confrontation with the Chinese, but they intend to maintain their powerful military presence in the Asia-Pacific region. Washington wants to approach issues in the Indian and Pacific Oceans the way NATO does in Europe. This is supposedly needed "not to start a conflict, but to prevent it."
During my conversation with President Xi Jinping, I told him that we welcome rivalry and are not looking for conflict, but I absolutely made it clear that I would protect American interests on all fronts.
He pointed out.
Biden stressed that the United States is opposed to international trade practices that negatively affect American
the economy
... Also, Washington intends to actively fight against the theft of American developments by other countries.
In fact, Biden did not say anything new, but only hinted once again about the "exceptionalism" of the United States.