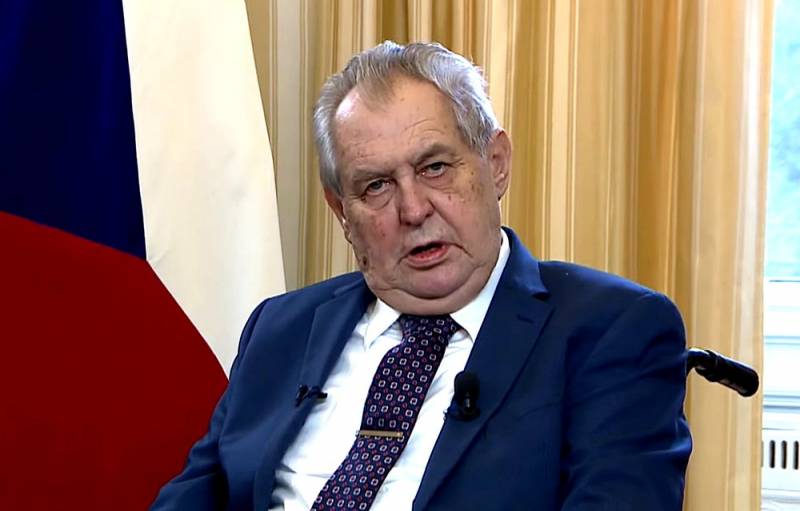 The recent emergency appeal by Czech President Milos Zeman to the people of the country caused a stir in the Czech Republic. The Czech Senate is preparing to accuse him of high treason, for allegedly "declassified" information about explosions at ammunition depots in the village of Vrbetse 7 years ago. This was announced to the public by Česká televize, referring to the words of the chairman of the upper house of parliament, Milos Vystrčil.
Some senators claim that Zeman has exceeded his authority by talking about an investigation into the incident.
We will be looking into the possibility of filing a constitutional complaint in connection with suspicion of treason. Now you need to collect the necessary information and listen to the opinion of experts about the situation that has arisen.
- said the speaker.
Vystrchila clarified that the country is already collecting signatures for a petition to the Senate demanding to file a constitutional complaint against Zeman. According to the initiators, the president defends the rights of another state, neglecting national interests.
We remind you that on April 25 Zeman
сказал
that two versions of what happened are being considered: the careless handling of ammunition and the actions of foreign special services. At the same time, he clarified that no suspicious devices were found immediately before one of the explosions. Therefore, he does not rule out that a "game of intelligence" is taking place. Zeman's words stirred up Russophobes not only in the Czech Republic.
Note that on April 21 the Czech Senate
She urged
the country's government to terminate the treaty of friendship and cooperation with Russia. Before that, April 17, Prague unproven
He accused
Moscow in organizing the above-mentioned explosions in 2014, as a result of which two people died. The Russian authorities deny everything, considering the suspicions absurd.