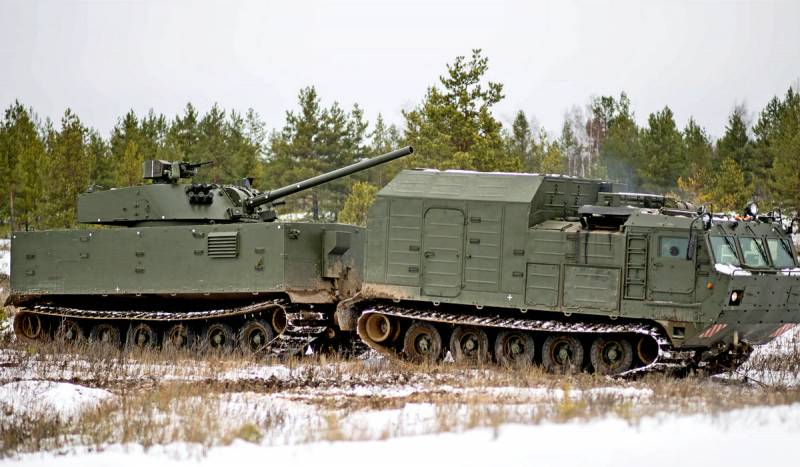 The newest artillery complex "Magnolia", intended for use in the Arctic, has passed intermediate field tests. At the same time, its state tests are planned to be completed by the end of next year.
For a long time, the Far North was considered practically unsuitable for conducting large-scale hostilities. Therefore, local operations in difficult climatic conditions had to be carried out by specially trained and appropriately equipped special forces.
However, things are different today. Rapid climate change requires Russia not only to deploy large-scale troops to protect its northern territories, but also to create weapons that can function in extreme temperature conditions.
One of such developments was the Magnolia self-propelled gun, created on the basis of the Vityaz two-link transporter, in the second link of which the fighting compartment from the 120-mm 2S31 Vena self-propelled gun was mounted.
In general, the weapon itself, which allows the use of a wide range of ammunition, remained unchanged. At the same time, the onboard fire control system was supplemented with an optoelectronic artillery reconnaissance module, which will allow over-the-horizon counter-battery combat.
The range of the Arctic "Magnolia" reaches 700 km, the maximum speed is 44 km / h. The self-propelled gun is capable of hitting all types of targets, including sea targets, with conventional high-explosive fragmentation shells at a range of 8,5 km. In the case of guided mines, the range is increased to 10 km.
The promising ACS "Magnolia" can be operated in absolute off-road conditions at extremely low temperatures. In addition, according to the developer, the combat vehicle can swim.