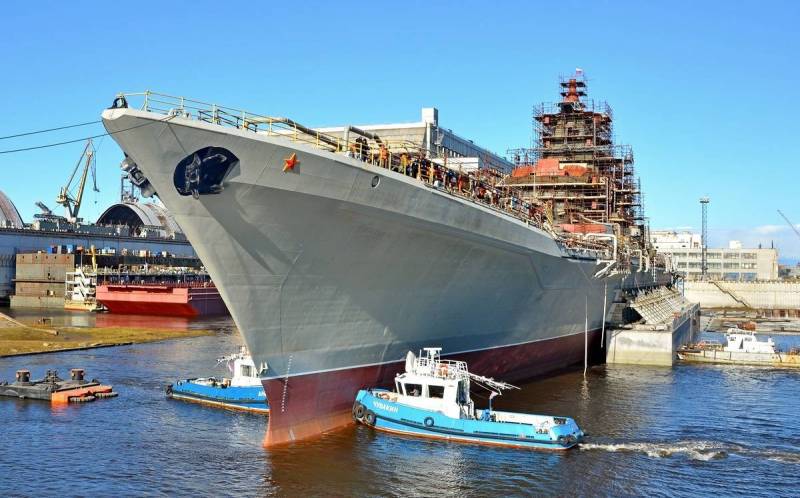 At the end of the Cold War, 4 Project 1144 Orlan heavy nuclear missile cruisers (TARK) were laid down at Soviet shipyards to destroy the US Navy's AUG. They allowed the Soviet Navy to conduct hostilities far from the Soviet shores, writes the American online edition Military Watch.
After the collapse of the superpower, Russia inherited the TARK Kirov, Admiral Lazarev, Admiral Nakhimov and Peter the Great. Due to the country's difficult economic situation, the fleet had to write off and send for disposal the first two from the list. The youngest "Peter the Great" (laid down in 1986 - in service since 1998) is in service, and "Admiral Nakhimov" (laid down in 1983 - in service since 1988) has been undergoing repairs since 1999 and is undergoing major modernization. His return to service is scheduled until the end of 2023.
The ship is going to replace the outdated air defense system, changing the S-300F air defense system for the newest naval version of the S-400, with a range of up to 400 km. It is expected that this air defense system will have 96 launch cells, allowing the world's largest arsenal of surface-to-air missiles to be accommodated on a single ship. In addition, shorter-range air defense systems will also be installed. Pantsir-ME will replace the Kortik anti-aircraft missile and artillery systems, and the Poliment-Redut shipborne air defense system (a naval version of the S-350 Vityaz) will replace the Osa-M air defense system.
The TARK will also integrate new offensive weapons. 20 anti-ship cruise missiles P-700 "Granit" will be replaced by 80 launch cells, which will house modern anti-ship missiles P-800 "Onyx" (range 600 km), cruise missiles "Caliber" (for strikes on land - up to 2500 km) and hypersonic ASM "Zircon" (range 1000 km).
With such an arsenal, "Admiral Nakhimov" will definitely pose a great threat to any surface fleet. Moreover, the matter is not limited to the replacement of weapons. In fact, only one hull will remain from the old ship, and the "filling" will be updated (sensors, sensors, radar and various systems).
The gigantic firepower and gigantic dimensions of the ship (total displacement of 25 tons) can really allow it to become the strongest and most combat-ready surface ship on the planet after a long and
complicated
modernization. However, it will be necessary later to assess whether the improvement of the ship influenced the reliability of its power plants and to what extent the new electronic warfare systems and access to longer-range missiles can compensate for the lack of covert functions (stealth) that the Chinese destroyers of the 055 type and the American destroyers of the type Zumwalt, summed up the media from the United States.