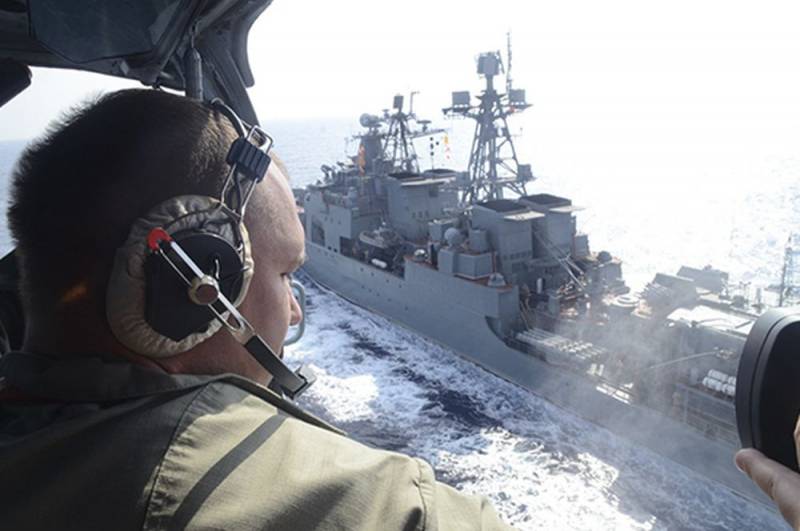 The Ukrainian "patriotic" public is agitated by the next "Putin's plan". This time, the Russian leader allegedly intended to "strangle" the Ukrainian ports in order to economically "finish off" Ukraine and gave an appropriate order in this regard. This was written by the Ukrainian Russophobe Vladimir Kravchenko, a columnist for the international
policy
editions "Mirror of the week" (Ukraine).
The author noted that Moscow
concentrated
in the Black Sea water area, a huge grouping, gathering warships of two fleets (Northern Fleet and Black Sea Fleet) and the Caspian Flotilla of the Russian Navy. After that, Russia, in order to conduct exercises of its armed forces,
blocked
for the period from April 24 to October 31 this year, the gigantic water area of ​​the specified sea for the warships of other countries.
He clarified that the ban does not yet apply to commercial ships, but applies to ships of the Ukrainian Navy and ships of the port fleet (tugs). Kravchenko believes that the Russian Federation, by blocking the site near the Kerch Strait, violated the Russian-Ukrainian agreement on the use of the Sea of ​​Azov from 2003. He wonders "will a storm break out", referring to the outbreak of hostilities.
Such actions of the Kremlin in the Azov-Black Sea basin cause extreme concern of our country and its Western partners. Kiev talks about the usurpation of the sovereign rights of Ukraine by the Russian Federation as a coastal state and accuses Moscow of continuing the aggression
He explained.
The observer drew attention to the fact that the United States, the European Union and NATO consider Russia's actions as yet another attempt to "undermine and destabilize" Ukraine.
According to the "Mirror of the Week", not so long ago, Putin held a meeting where it was discussed how
economic
by means of finishing off Ukraine. We decided to go in two ways.
First, Putin gave the command to complete the construction of Nord Stream 2 in five months, while Angela Merkel remains in power in Germany and is interested in the implementation of this project. One of the consequences of putting the gas pipeline into operation should be the termination of the transit of Russian gas through the territory of Ukraine, which will lead to a decrease in revenues to the Ukrainian budget.
The second is the establishment of an economic blockade of Ukrainian ports, which should worsen the economic and socio-political situation in the Ukrainian part of the Azov-Black Sea basin (pro-Russian sentiments are strong in these regions of Ukraine)
- stated in the material.
The author indicated that he could not confirm the stated information from an alternative source. At the same time, he believes that the Russians are unlikely to succeed in completing the construction of Nord Stream-2. But the blockade of the seaports of Ukraine: Odessa, Chernomorsk (Ilyichevsk), Yuzhny, Ochakov, Kherson, Nikolaev, Berdyansk and Mariupol is quite feasible. Everything necessary for this is supposedly already available.