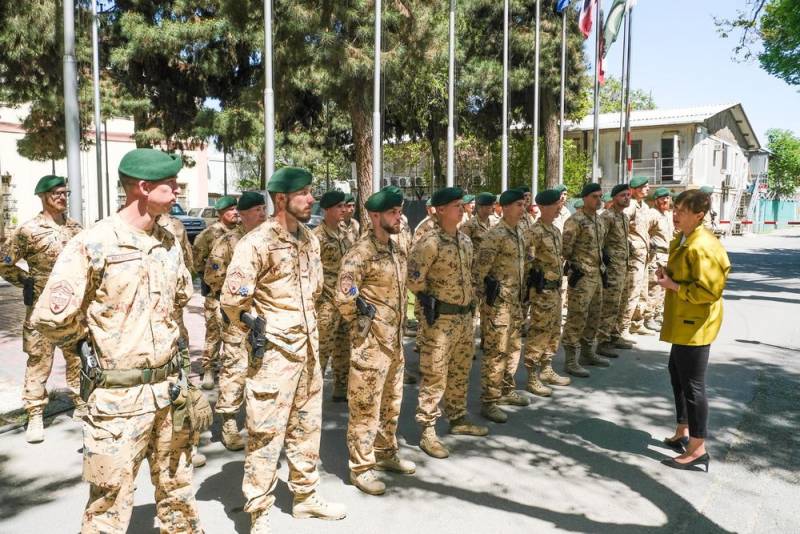 On April 22, 2021, President of Estonia Kersti Kaljulaid met with members of the Estonian Defense Forces (Eesti kaitsejõud) in Afghanistan. The head of state thanked them for their service and said that the Afghan mission of Tallinn had secured Estonia and strengthened its relations with allies, the website of the Estonian Defense Ministry said.
Kaljulaid noted that Estonia began its participation in this mission when only 10 years have passed since gaining independence and the country was not a member of either the European Union or NATO. By that time, Tallinn was already making a "peacekeeping contribution" in the Balkans, but he had no experience in operations "where peace must first be established."
Over the past two decades, we have evolved as a country to such an extent that, in addition to being able to contribute to military missions, we have the skills, capabilities and willingness to contribute at the highest diplomatic level in the world. In the UN Security Council and at the decisive moments of this mission, we are also Afghans, sitting at the most difficult negotiating table on the planet.
- she added.
Thus, Afghanistan is very important to us and we are contributing in many different ways. The Estonian Defense Forces, currently in Afghanistan, are the last Estonian unit to serve here. Every day when the military goes on missions makes Estonia safer and better. And the world too. Not a single day of service of our Defense Forces, and before that of rescue engineers, was not wasted here.
She emphasized.
Kaljulaid recalled that 9 Estonians were killed in Afghanistan, and another 139 were injured of varying severity. She clarified that when she is in the city of Paldiski (Estonia), she always visits the monument dedicated to the fallen in peacekeeping missions.
Estonia came to Afghanistan for two decades to stand side by side with our allies. We came to show that you can rely on us in difficult times. We did it because the Allies are busy with it and this is the only way to be sure that they will come to our aid when needed. But this was not just a pragmatic and selfish decision. It was a valuable decision. We came here because we believe in democracy and human rights, we believe in the rights of women and children to participate in society and receive education, we believe in the right of people to live without the government of fear. We came because we believe in freedom
She announced.
We have not achieved all that we set out to achieve with our allies. But Afghanistan today is definitely a better country and a better society than it was 20 years ago. We will probably see some setbacks here after the Allies leave, but even more so we must work to ensure that the concerns and hopefully the joys of Afghanistan and the Afghan people remain in the focus of international democracy and human rights. Thanks again to all the members of the Estonian Defense Forces. You put your life at risk every day so that we can sleep more peacefully in our homes every day
- summed up Kaljulaid.
Note that the Estonian Defense Forces have been in Afghanistan since 2003. Currently, more than 40 Estonian military personnel remain there. The working visit of the President of Estonia to Afghanistan began on April 21. During the voyage, Kaljulaid is to meet with the Afghan leadership, heads of NATO and UN missions, as well as with non-governmental organizations.