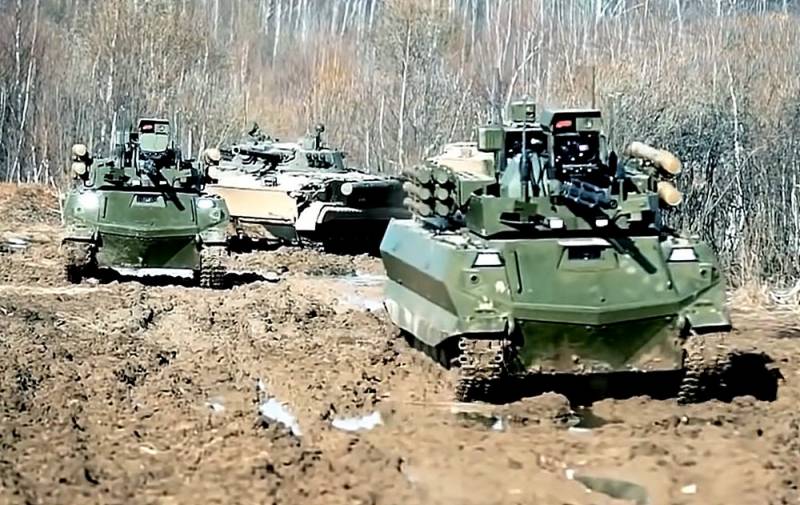 Despite the constant improvement of weapons, today it is still not capable of maximizing the protection of soldiers on the battlefield. Armored personnel carriers and various armored vehicles do not have a sufficient level of "survivability", and even the richest armies of the world cannot afford to "hide" all the infantrymen in tanks.
However, progress does not stand still, and some states are already experimenting with might and main with the creation and use of autonomous robotic systems, in terms of their combat power capable of replacing a full-fledged mechanized company. Russia is not lagging behind the "trend" either.
Our country already possesses several complexes of different classes: "Platform-M" and "Nerekhta" weighing up to a ton, "Companion" weighing 7 tons and, finally, a 15-ton remote-controlled heavy-class vehicle "Vikhr", created on the basis of BMP- 3.
However, as field tests have shown, the most successful option is the Uranus intermediate class program, aimed at shaping the appearance of a flexible and inexpensive multifunctional platform that makes it relatively easy to assemble the final specialized versions on its basis.
Until 2019, the only practical result of the program was the Uran-6 remote mine clearance vehicle, adopted by the engineering troops and tested in Syria.
Later, a robotic platform for escorting the Uranus-9 infantry was presented, the initial version of which was also tested in Syria. Today, the domestic combat robot is equipped with a 30-mm automatic cannon, 4 "Attack" missiles and six-barreled launchers of "Shmel-M" flamethrowers. This complex is capable of destroying any armored vehicles at a distance of up to 5 km, as well as solving reconnaissance tasks, opening the operation of enemy laser guidance systems and setting up a smoke screen.
The Russian troops have already begun to form an experienced unit armed with the aforementioned robotic complex. According to the current plan, after the "running-in" of the combat vehicle and training of personnel, the delivery of "Uran-9" to combat units will begin.