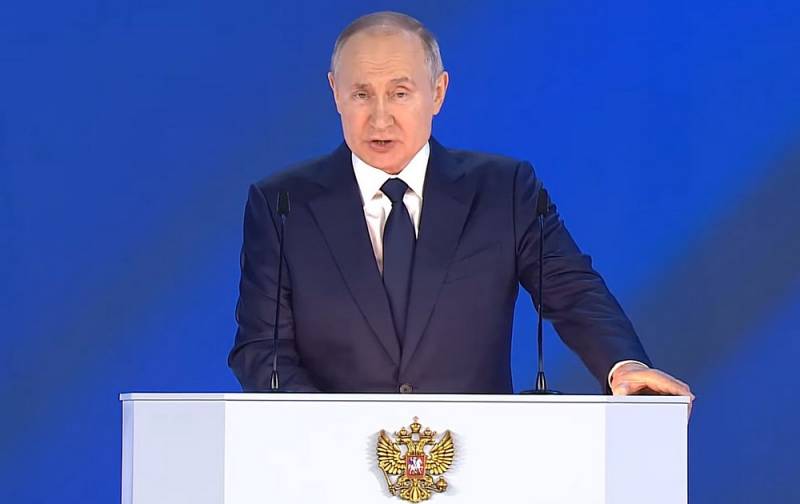 The current speech of the President of Russia, who addressed the annual message to the Federal Assembly, was one of the most anticipated and intriguing in recent years. Indeed, it sounded during an almost extreme aggravation of relations between our country and the West, considerably aggravated by the risk of escalation of events in the East of Ukraine.
It was not for nothing that long before this event there were many rumors around him and one more bizarre speculation was expressed than the other: "Putin recognizes the Republic of Donbass! Will declare war on Ukraine! No - all NATO at once! " It almost came to this ... Naturally, such predictions did not come true in the slightest degree.
Perhaps someone was discouraged by the current message of the president. Or even disappointed. Nevertheless, only with a sufficiently thoughtful analysis of its provisions and theses can one understand the main thing - a new era is really coming in the world. It is not vain and businesslike, without great fanfare and loud statements. In working order, so to speak. It is not so difficult to assess the true meaning and essence of Vladimir Vladimirovich's words in their context and interrelation with current events. Let's try to do this.
The West is frightened by the words about "red lines" ...
During the entire period of his rather lengthy speech (it lasted an hour and 20 minutes), Vladimir Putin never once used the word "war". In general, at least 90% of his message was devoted to purely Russian domestic issues and international
policy
did not touch in any way. Nevertheless, the Western media are already full of headlines in which they claim that the Russian president not only "threatened the world community", but downright "poured threats". In any case, two of the main "mouthpieces" of the "collective West" - the BBC and Radio Liberty (in Russia it is a foreign agent) present information in this vein. What scared these gentlemen, forcing them to assert that "Putin spoke about the country's foreign policy in an extremely harsh manner"? Without a doubt, the promise of an "asymmetric, tough and quick" response to any unfriendly actions against Russia that threaten its security and vital interests, supported by the clarification that those who run into the corresponding "response" let them later blame themselves - "regret as I have never regretted. "
However, probably the most discouraging factor in this passage was the words of the domestic leader that the notorious "red lines", the passage of which is fraught with the same "who did not hide, I am not to blame", which was discussed above, will be determined by Russia itself. and not any "world community" or its authorized bodies and organizations. And, even more so, not foreign governments and heads of state, who for some time have imagined that they can decide whether certain Russophobic actions exhaust Moscow's patience and peacefulness, or it is possible to get a little more puffy. The most interesting thing is that in this case we see before us the announcement of the principle, which is already in full force. This is not a threat, it is much worse here - a statement of fact.
It is precisely with the real implementation of the postulate, which is now becoming unshakable, that we and only we decide how serious and large-scale the "execution" should be for those who have infringed on the interests or dignity of Russia, that the Czech bums have faced right now, deciding whether to laugh surprise the whole world with the "destruction of the Russian intelligence station" and expelled 18 of our diplomats. When, in response to the exit with their belongings, two dozen Czech ambassadors went, they were terribly offended in Prague, and today they are in all seriousness trying to issue Moscow ultimatums, demanding ... deadlines ", in which this impudent requirement must be fulfilled. This is in addition to the fact that the Czechs are already preparing a "claim against Russia for compensation for damage caused by the explosion in warehouses in Vrbetica in 2014," which was recently announced by the local Prime Minister Andrei Babis.
It is quite obvious that they never reach them. The Czech Republic is not that it transcends all conceivable and inconceivable "red lines", it rushes for them, like an obsessive, demonstrating to all its neighbors a real master class of outrageous provocations, which are simply unthinkable to leave without a "tough and asymmetric response". Indeed, Vladimir Vladimirovich is right that Tabaki is trying with might and main to surpass the shabby Sherkhan, to whom they curry favor. Well, this "cat", however, also coincides - on the same day as the President announced his message, the Deputy Head of the US Embassy in Russia in our Foreign Ministry also announced something. Specifically, a demand for a dozen American diplomats to leave our country within a month. There will be no exceptions for the "jackals" or for the "tigers" - from now on, this is the only way. The United States has so far received "mirrored" and proportional. However, for their pride, the blow is extremely painful.
... and Russia's self-sufficiency
By the way, it is quite funny to watch how Washington is once again trying to "put a good face on a bad game." When, at a press conference held shortly after Vladimir Vladimirovich's speech, White House press secretary Jen Psaki was asked a specific question: "Do they consider it offensive to compare with Kipling's not-so-cute heroes?" any statements made by Putin ", and in general she has" very thick skin ". Well, yes - Vladimir Vladimirovich spoke about the Martians in Aesopian language ... However, Psaki's attempts to get out after the question about the effectiveness of the anti-Russian sanctions, strenuously stamped by Washington, looked much more interesting. Here I really had to sweat, but the press secretary was found: according to her, "no one expected an immediate change in the Kremlin's behavior after the introduction of restrictions." They, according to Psaki - are, first of all, "a signal that malicious actions are unacceptable and must be stopped." Well, signal further ... At least it would be better for the gentlemen from Washington (and not only from there) to decipher the signal addressed to them from Putin himself.
For the first time, the President in this speech directly linked "illegal and politically motivated
economic
sanctions "with their" continuation by other means ", to which he attributed" the organization of coups d'etat and political assassinations. " Tellingly, the domestic leader, in his other passages dealing with geopolitical issues, diligently avoiding directly naming states and the names of politicians, was as specific as possible here. He named the events in Ukraine in 2014 and the current attempts to arrange a "color revolution" in Belarus as examples of "inspired by the West" (that is, first of all, the United States) coups.
And it says a lot. First, the claims to the West regarding the terrorist acts prevented in Minsk and the attempts to seize power by force have not been withdrawn, despite not all their assurances of their own innocence. Secondly, Kiev should be pretty tense, because, following the logic of what has been said, the characters who are now in power there are absolutely not legitimate in the eyes of the Kremlin. With all, as they say, following. What do we end up with? Quite a paradoxical thing - more than ever the scanty attention paid by Vladimir Putin to international affairs, quite rightly scared the West much more than his "Munich speech". The fact that the president spoke for more than an hour about the fight against the pandemic and its consequences in Russia, about schools, roads, new payments to families with children, business support and other, purely domestic, "domestic" things testifies to the fact that the "world community" With which, not so long ago, by historical standards, Moscow compared almost every significant step and every decision it made, it has finally and irrevocably "put out of the brackets". No one in the Kremlin is concerned about the opinion of the White House, the British Parliament, the European Council, or anyone else. Let them solve their own problems and not meddle in our affairs. No, the "iron curtain" has not yet clanged - after all, Vladimir Vladimirovich, albeit in passing, on duty, but said about his unwillingness to "burn bridges" and the desire to "have good relations with everyone."
However, in the details of the wording, as usual, lies the main thing - Putin did not even mention such a generally accepted phrase as "international cooperation." Or, say, "partnership". Enough, we've had enough of it already. He said very specifically: "international communication". Well, and then the very same words that aweed the West about a "tough and symmetrical response" to those who, humanly, cannot or do not want to communicate, were sounded.
The list of possible instruments of "enlightenment" given by Putin is quite exhaustive: "Vanguards", "Daggers", "Caliber", "Peresveta". This is what is already there. "Sarmatians", "Poseidons" and "Zircons" - wait in the near future. Perhaps more than enough to pierce the thickest skin ... Russia, which has decisively bypassed the West in its military development, no longer even intends to pretend that it will abide by some of its "rules". The wretched attempt to neutralize the speech of Vladimir Putin, which one day, quite possibly, will be called historical, resulting in speeches timed to coincide with his date, "bulk up" looks ridiculous and downright ridiculous. It is already unrealistic to "expand" Russia at the current stage of its development, to return it to the state of docility and "predictability" that is so dreamed of in Washington. We will build, raise children, develop the country without looking back at anyone and without waiting for someone's approval or condemnation.
The place of the West from now on is at the very "red line", which will be drawn not by him, but by Russia. It is also ready to create a completely new "conflict-free environment" and a "security formula" for the whole world - but, again, on its own terms, and not dictated by someone from outside. This is truly the beginning of a new era. Nobody says that it will be cloudless and easy, trouble-free and serene. However, the most important thing is that what it will be like this time really depends on us.