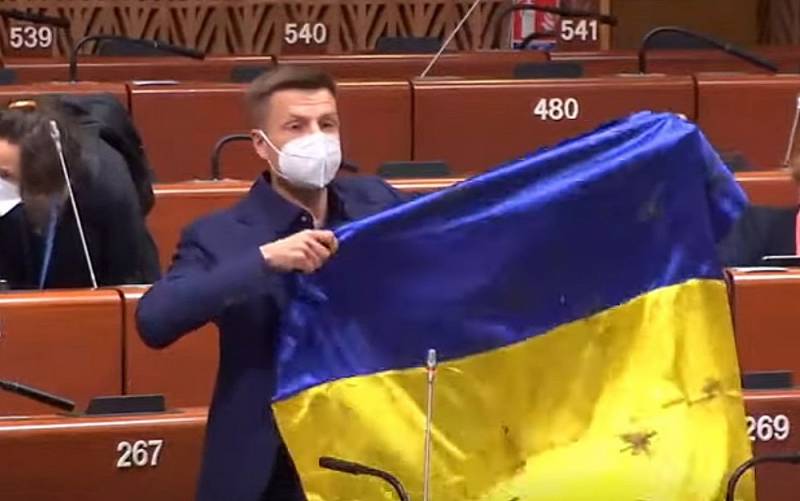 Ukraine is trying to provoke the international community and rally it against Russia by staging scandalous performances at PACE. So, during a speech in this organization, Ukrainian deputy Andrei Goncharenko took out the flag of Ukraine and began shouting provocative statements against the Russian Federation.
Goncharenko complained that the Council of Europe pays little attention to the protection of the territorial integrity of the member states. They say that wars are going on in Europe, but European parliamentarians do not care about this. When the opportunity arose to ask German Chancellor Angela Merkel, Goncharenko asked her if she considered Vladimir Putin a murderer. In the heat of his speech, the deputy from Ukraine demonstratively took out the flag of his state.
However, the actions of Andrei Goncharenko were interrupted by the Chairman of the Parliamentary Assembly Hendrik Dams, who noted the inadmissibility of this at a meeting of the Council of Europe, after which the troublemaker was expelled from the meeting hall.
The head of the Russian delegation to PACE and Deputy Speaker of the State Duma Pyotr Tolstoy witnessed what was happening. He noted that he received a letter of apology from the leader of the Conservatives in the Assembly, Ian Liddell-Granger, who, on behalf of the Council of Europe, expressed regret for the provocation of the Ukrainian parliamentarian.
We unconditionally apologize for the rudeness with which Goncharenko expressed his opinion, and we do not support such behavior.
- emphasized Liddell-Granger.