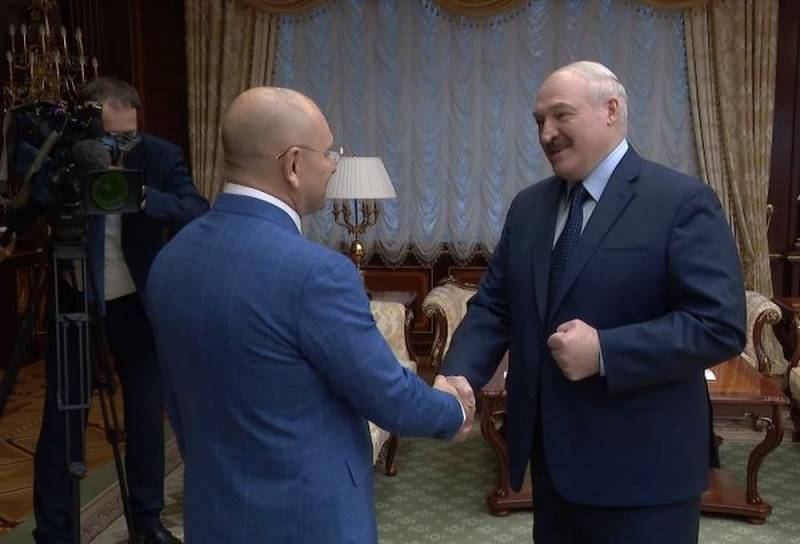 On April 20, 2021, Belarusian leader Alexander Lukashenko announced a "good signal" and clarified his position on Donbass. This happened during a meeting in Minsk with the People's Deputy of the Verkhovna Rada of Ukraine from the Servant of the People faction Yevhen Shevchenko, who heads or participates in the work of a number of committees, subcommittees and groups of the Ukrainian parliament.
Lukashenko expressed his joy, shaking hands with the guest, that there is more in Ukraine
policy
who respect Belarus. He said that this meeting is an excellent occasion to talk about relations between the two neighboring countries. At the same time, he noted that recently there has been little positive between Kiev and Minsk. But he hopes that the meeting will mark the beginning of "cooperation of true patriots of Ukraine with Belarus", stressing that he never hid anything from his Ukrainian friends.
The President of Belarus drew attention to the fact that the work of the Trilateral Contact Group on the settlement in Donbass is not a "gift to Lukashenka". He recalled that in 2014 he was asked by the presidents of Ukraine and Russia, Petro Poroshenko and Vladimir Putin, respectively. Everyone agreed with this, since Minsk is close and convenient. However, if there is a desire to move the negotiation platform to another place - "for God's sake." If this is beneficial, then it will be welcome. But he does not understand why he should go "far away from the ground", organizing a political bacchanalia. He is not worried about finding a negotiating platform in Minsk. He will simply be sorry if the negotiations on Donbass drag out or stop altogether.
I would very much like us, as Slavic peoples, three fraternal peoples, to be together. For the benefit of the peoples. No one is going to enslave one another. Nobody is going to crush each other. But politics is politics, you understand, there may be different nuances. In politics, the winner is the one who is smarter and the one who will use this situation in such a way as to turn everything for the better. I also mean the situation in Donbass
- explained the head of the Belarusian state.
Lukashenko stressed that normalization in problem areas of Ukraine depends only on Kiev. In his opinion, in the medium term, not to mention the long game, Ukraine will win. He understands that everyone wants to save face, but you need to understand that Russia is a huge country that can do a lot. For example, help Ukraine with the restoration of Donbass.
There were such proposals from Putin. He asked me to hand them over to Poroshenko. I told him, laid out everything, but then for the first time I understood unequivocally that Ukrainian politicians are not independent leaders. It was necessary to make decisions and move slowly. By this time, many questions would have been removed. But I was a witness, it's not Putin's fault
- Lukashenka stressed.
In response, Shevchenko assured that the overwhelming majority of Ukrainian citizens have a very good attitude towards Belarusians and many would like to see Lukashenka as their president.
It should be noted that Ukrainian right-wing radicals have already declared the deputy Shevchenko a "spiteful" who acts against the interests of the country and promised to take various measures against him.