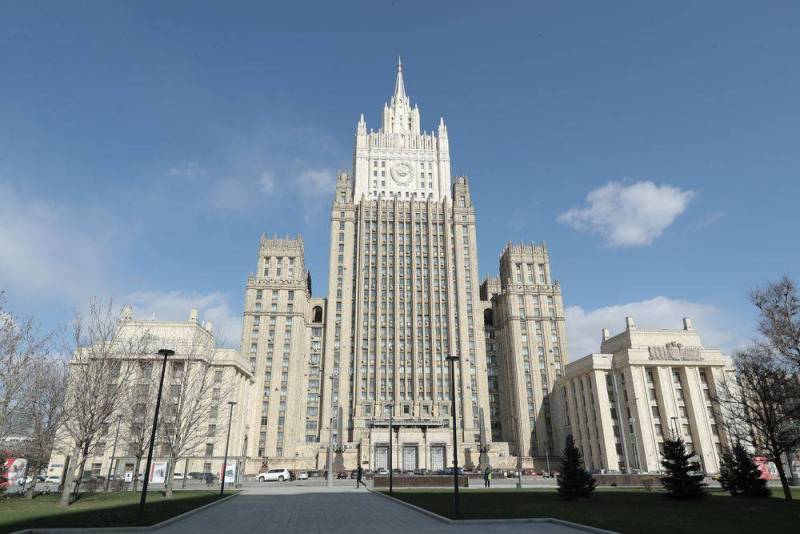 Czech anti-Soviet Russophobes continue to actively harm relations between Prague and Moscow to please Washington. If in the spring of 2020 the authorities of the municipal district of Prague-6 of the Czech capital distinguished themselves by demolishing the monument to Marshal of the USSR Ivan Konev, now they "took a bite" in the municipality of the district of Prague-7.
The headman of the aforementioned district, Jan Chizzynski, wrote on April 19, 2021 on his Twitter account that the municipal authorities want to return the part of Stromovka Park, which is "occupied" by Moscow, which is occupied by the Russian Embassy in Prague. He provided his publication with a map of the area.
The Prague City Council called on the Czech government to negotiate the restoration of the Russian embassy square to the state that preceded the invasion of the Warsaw Pact troops in 1968. In 53 years, the occupation of the Stromovka unit by the Russian Federation should finally end
Chizzynski announced.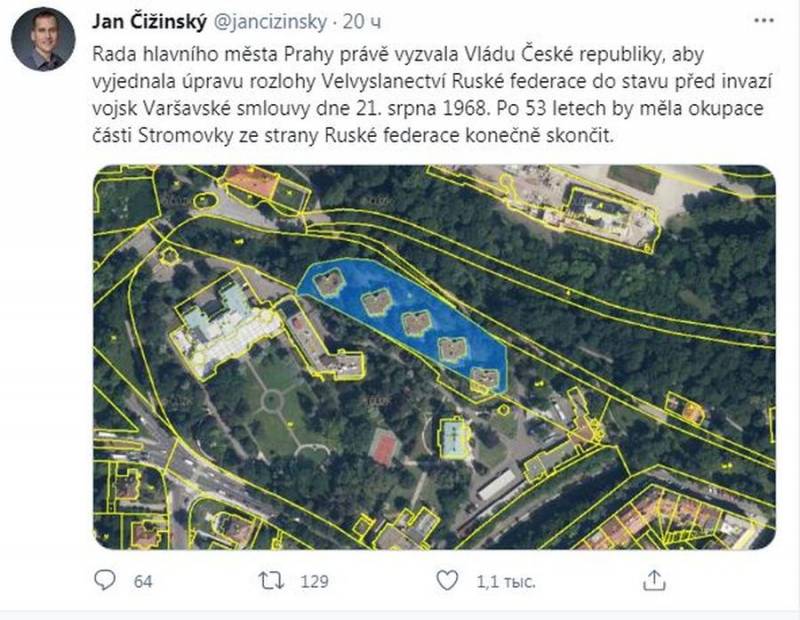 The Czech media clarify that it is about 0,5 hectares of land on which the municipality wants to restore green spaces. Allegedly, in 1968, servicemen of the Soviet army "arbitrarily" occupied this territory, setting up a field camp there. Later, the area of ​​the USSR embassy in Prague increased, but after the departure of Soviet troops from the Czech Republic in the early 90s, nothing changed.
Moscow reacted to another unfriendly attack from Prague. The Russian Foreign Ministry has eloquently responded to the "land plans" of the Czech Republic. The department recalled that Czech real estate is located in the center of the Russian capital. In fact, Moscow threatened Prague with mirror consequences in the form of retaliatory seizure.
If Prague, with its particularly zealous district heads, dares to resort to a different "toolkit", we remind you that the Czech side also has a lot of real estate in the Tverskaya Street area of ​​the Russian capital
- indicated in the Telegram channel of the Russian Foreign Ministry.
The department emphasized that the USSR received the mentioned territory in the 70s on the basis of an agreement with Czechoslovakia. It was noted that earlier Prague and Moscow used "mechanisms of expert consultations", therefore, the parties have "tools for a professional and competent dialogue".
Note that on April 17, Czech Prime Minister Andrei Babis, as well as the head of the Ministry of Foreign Affairs and the Ministry of Internal Affairs of the Czech Republic Jan Hamacek at a joint briefing
announced the
about the expulsion of 18 Russian diplomats from the country. Response actions of Russians
very
did not like in Prague, but the Czechs stubbornly continue to aggravate the situation.