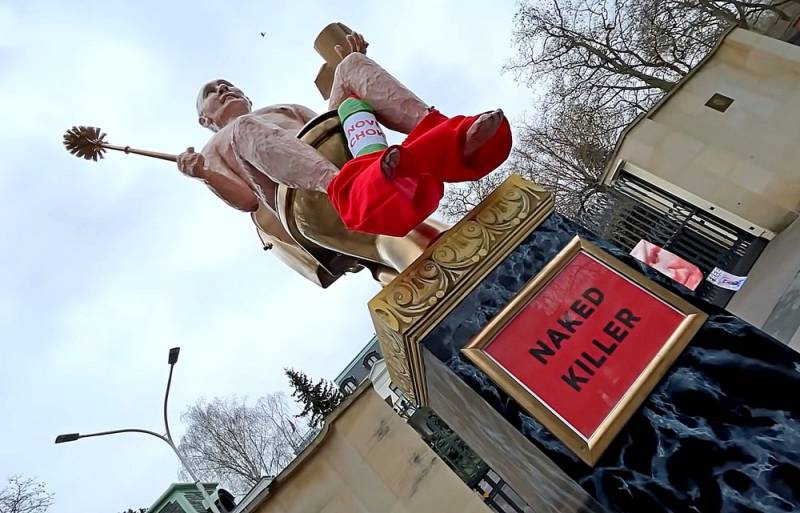 The events of the transient and extremely acute confrontation that unfolded between Prague and Moscow since April 17 can hardly be called natural. They simply could not fail to happen - in one form or another. The patience and restraint of our country, which in certain cases, perhaps, already in complete forgiveness and inability to defend their own honor and dignity, have been crowned with the only possible ending.
It is disgusting and painful to talk about the actions of the country, for the liberation of which hundreds of thousands of our ancestors died and which until 1991 was considered one of our "brotherly" ones. It is even more unpleasant to remember how Czech-Russian relations reached their present state. However, it will have to. In order to avoid a repetition of the sad experience ...
The audacity that grew out of impunity
I really don't like passages in the style: "But we warned you!" I try to avoid this as much as possible ... Nevertheless, almost a year ago, on May 7, 2020, in my article devoted to, to put it mildly, Moscow's sluggish and faded reaction to the campaign of frenzied Russophobia that unfolded just then in the Czech Republic, marked by the demolition of a monument erected in Prague its liberator, Marshal Ivan Konev, the announcement of the Vlasov traitors by the saviors of the Czech capital (with the construction of a "monument" already to them) and a number of other no less cheeky and provoking anti-Russian demarches, I wrote literally the following: "The Russophobic bacchanalia will continue exactly as long as Russia she will be tolerated. " Then, after the scandal with the monument, if anyone forgot, there was also a comedy with the "salvation from the hands of the Russian liquidators" of the initiators of the aforementioned lewdness - the elders of the Prague-6 and Rzepory districts Ondřej Kolář and Pavel Novotn, as well as the Mayor of Prague Zdenek Grzyba, who the "murderers from the GRU" who sneaked into the night with ampoules of deadly ricin, the "murderers of the GRU," determined to poison these scoundrels like rats.
It is clear that not a hair from the shameless heads of the dispersed Russophobes did not fall, and in general, all this whistle ended with insulting Soviet soldiers-liberators and smearing with dirt already modern Russia for Czech scum. In vain, only Ursula von der Leyen was begged for salvation from "Russian interference". Alas, Prague was firmly convinced of its complete impunity even then. As it turned out, not without reason. It was not for nothing that the then foreign minister of the country Tomasz Petříček so imposingly and condescendingly addressed our country with an appeal to "avoid politicizing the issue" and even had the audacity to immediately share plans to "expand the Czech diplomatic presence in Russia."
Today, the acting head of the Czech diplomatic department, Jan Hamacek, expresses his own discouragement with the "unexpectedly strong" response of Moscow, which, at last, instead of raising completely inappropriate in this case antimony, took, and put out two dozen of his subordinates in response to the expulsion 18 of our diplomats. How so? Can the Russians really know how to answer? Well, someone, but not the Czechs, ask such questions. Forgotten somehow ... It's a pity. In its current attack of Russophobia, Prague has crossed all conceivable and inconceivable boundaries of what is permissible, surpassing the Ukrainians, Poles and Balts combined. Bringing into the light of day the long-forgotten case of explosions in military warehouses and blaming the "Russian intelligence" for them - of course, following the "best" traditions of the "non-existent", where such warehouses are regularly plundered, and subsequently set on fire, writing off everything that happened on the "damned Muscovites ".
An attempt to "fasten" completely anecdotal characters in the person of "Petrov and Boshirov" to this case is, you know, not even a manifestation of impenetrable stupidity. No, I'm sure - here we have a well-planned mockery, quite a targeted spit, so to speak. They simply make it clear to our country: "We will humiliate and bully you under the most ridiculous and far-fetched pretexts, thereby demonstrating that we can do whatever we want!" And after all, they do the same ... Just because they can. In this regard, a completely natural question arises: Shall we endure further? To prove your right to complete the construction of a nuclear power plant in Dukovany? Offer Czechs a Russian vaccine against coronavirus? Talk and debate as with normal, sane people? Why only 20 Czech diplomats flew out of Russia, and not all of them, how many there were in the country ?!
Shall we turn the cheek or put it back?
What else should happen in order for the response of the great country to the yelping and bites of the enraged mongrel to be tougher not by 1/10, as is the case with the number of expelled diplomats, but by orders of magnitude? To finally feel and understand what is not allowed? This, of course, is not only about the Czech Republic. For example, the ex-President of Estonia (in 2006-2016) Toomas Hendrik Ilves announced on April 17 that "for the security of Europe," the EU must completely close the entrance to its territory for all, without exception, citizens of Russia - the country, which, he claims, "poisons and kills Europeans, shoots down civilian liners, invades and occupies." Today this figure, nominally departed from the big
policy
, dabbles in pseudoscience - you see, he is listed at the University of Tartu as a professor of such a "discipline" as "democracy of the digital age." I would sit quietly - and the dog is with him ...
But no! Why not initiate a criminal case against the talkative professor - at least for inciting hatred and hatred, but not demand his extradition for a fair trial? They won't, of course. Then - to prohibit, in full accordance with the ideas of the ex-head of Estonia, all its citizens from entering Russia. And at the same time - to the Lithuanians. This is their Foreign Minister Gabrielyus Landsbergis at a video conference of the EU Foreign Ministers, commenting on Czech spy-Russophobic nonsense, publicly declared that "Russia has proved its support for terrorism and terrorist attacks." And he called on his colleagues "to be bolder in getting rid of Russian spies and saboteurs working under diplomatic cover." Where are the reports about the expulsion of the diplomats of these two "superpowers" ?! Give them a day to officially apologize and expel. Not too upset? And let them ... The main thing is that our conscience will be clear, that they did not keep silent, did not wipe away again. You will not be ashamed in front of yourself. But this is just for the beginning ...
Someone a year ago called for "not to cut from the shoulder" and not to act "harshly" with the Czech Republic. Insofar as - "
economic
interests ". Well, yes, of course - export-import, again, they are going to build a nuclear power plant…. And how, they built it ?! But perhaps, had Prague received a full-fledged "otvetka" a year ago, they would have thought about it. You look, and with the Dukovans things would have turned out differently. And so they probably just spent time, effort and money to promote this project, which now will not be implemented under any circumstances. As for foreign trade operations between the two countries, you are generally surprised - according to the data of the Federal Customs Service of Russia, in 2020 the Russian-Czech trade turnover decreased by only 28.6%, exceeding the $ 6 billion mark. Russian imports from the Czech Republic fell by a little more than half a percent! And even then something suggests that the point here is in the coronavirus pandemic, and not in the willful decisions of Moscow. Be that as it may, but the economy of our "friends" we financed after all their Russophobic demarches for almost 3.7 billion dollars. Not weak, right?
And, by the way, Nikola Grushkov, presented in the Czech media as an "agrarian diplomat", in the same 2020, announced that just the purchases of agricultural and food products by Russia in his country increased by 14%. At the same time, he also spread about how incredibly popular Czech beer is among domestic consumers and argued that almost all worthy breweries in Russia "are either built by Czechs or operate on Czech equipment." Directly, we cannot live without them ... Rosatom is today lamenting about "contracts worth billions of euros, which the Czech side has deprived itself of," insolently throwing our country out of the tender. Yes, they will survive somehow. Can we survive without $ 2 billion received from exports to the Czech Republic in 2020? Or is it beyond us how the citizens of China, without any commands "from above", can take, and even overnight abandon the products of countries and manufacturers that offend our state?
Prague, even after the massive expulsion of its diplomats, is apparently not going to calm down at all. Hamacek, who is now temporarily "steering" the Czech Foreign Ministry, is already broadcasting something about a possible "further reduction in the number of Russian diplomatic representatives" in the country. Just yesterday, his department "called for solidarity" from its colleagues from other EU countries, actually pushing them, by analogy with the "precedent in Salisbury", to the mass expulsion of employees of Russian embassies and consulates. The noteworthy Prague Russophobes, who now itch with special force, are not appeased either. So, the headman of the capital district of Prague 7, Jan Chyzhinsky, has already jumped out of the snuffbox like a devil with another "brilliant" initiative. This figure, under the guise of a "diplomatic war", demands that the government chop off half a hectare of land from our embassy in the territory of Stormovka Park, which allegedly "Soviet troops occupied during the invasion in 1968, settled there and use (!) As their own base." Pan Chyzhinsky claims that since then a piece of precious Prague land "is under illegal Russian occupation" and demands "to restore justice." Further, presumably, there will be demands to "evict" our embassy somewhere to the outskirts of the city, or even to completely and completely liquidate it. In the light of everything that has already been said, it will not be surprising at all.
This is not a spring aggravation. This is another attempt to slap our country in the face, taking advantage of the fact that it will not be properly answered. What will we do next? As a matter of fact, there are two options - to turn the other cheek, or to put in place the presumptuous impudent people. And to put it so that it will be remembered for many, many years. It is desirable - forever.