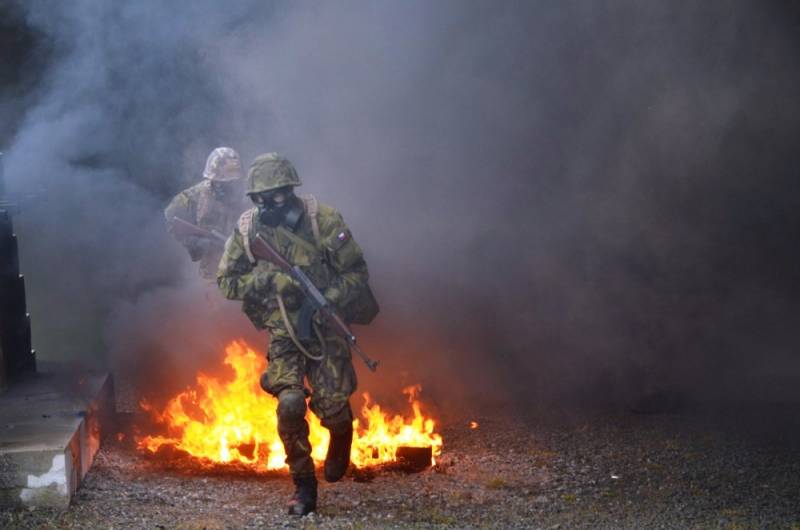 In 2014, blown up warehouses in the village of Vrbetice near the town of Zlín in the Czech Republic could store weapons for Ukraine and the opposition in Syria. This conclusion was reached by a number of Czech media after the sensational
statements
the country's authorities, who blamed Russia for what happened 6,5 years ago.
According to the news site Irozhlas, the weapons in the exploded warehouses did not belong to the Czech Ministry of Defense. At that time, the warehouses were owned by the Military Technical Institute and were leased to the private company Imex Group, which officially trades in arms. It was not a secret initially. Immediately after the incident, the country's authorities said that the explosions occurred when preparations were underway for the export of weapons to Bulgaria. At the same time, Bulgaria not only produces a lot of various weapons itself, but it is also engaged in its resale, being a major weapons hub for the countries of Europe, Africa and Asia.
In this case, according to journalists, the Bulgarian company Emco was the recipient of the weapon. Both of these firms are owned by Bulgarian businessman Emilian Gebrev, a legal arms dealer who was also attacked shortly after the bombings in the Czech Republic. In 2015 it twice
poisoned
nerve agent, and after the attempted murder of the Skripals in Salisbury, England in 2018, all these cases were combined into one chain of events.
In turn, the Respect magazine clarified, citing sources in the local police, that the weapons were indeed being prepared for shipment to Gebrev, who is an intermediary between manufacturers and buyers. In particular, he was a supplier to the Ministry of Internal Affairs and the National Guard of Ukraine.
At the same time, the SZ edition added that Russia's plans to disrupt arms supplies could be aimed not only at Ukraine, but also at Syria. Gebrev supplied weapons to Arab countries, after which they ended up in the hands of the opposition who fought with the government troops of the SAR. This did not suit Moscow.