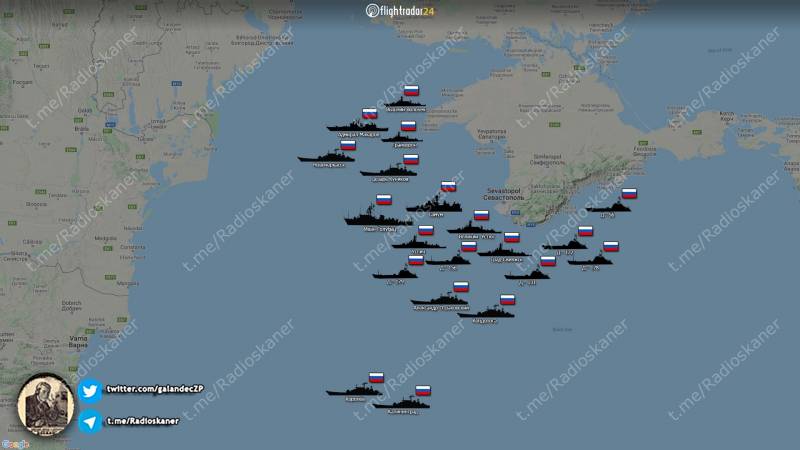 Against the background of increased tensions in Ukrainian-Russian relations, the Black Sea may turn into an area of ​​provocation, both from Kiev and its western patrons. Therefore, the Russian authorities closed for six months the passage through the Kerch Strait for warships of other states, and the Russian Navy concentrated a solid grouping near the Crimean coast, which by April 17, 2021 already has at least 20 combat pennants.
In addition to the ships of the Black Sea Fleet, ships of the Caspian Flotilla, Northern and Baltic fleets also gathered in the water area of ​​this sea. They will conduct the exercise as part of the winter monitoring test.
They will also involve airplanes and helicopters of naval aviation and air defense of the Black Sea Fleet.
The concentration of the fleet was shown by the Telegram-channel "Hunter's Notes" in his note. In addition, the transfer of the Russian Aerospace Forces from the Ivanovo (Severny) airfield to the Kaliningrad and Rostov regions of aviation radio detection and guidance systems was detected, i.e. long-range radar detection and control aircraft (AWACS).
On April 17, an A-30866 aircraft with tail number 50 arrived at the Chkalovsk airfield (military unit 93966) in Kaliningrad. At the same time, an A-50 aircraft with tail number 94268 arrived at the Taganrog-Yuzhny airfield. The military department noted that a scheduled aviation check is underway.
It will be interesting to see how long these "flying saucers" will linger and whether these teachings were really exercises
- attention is drawn to the publication.